Kidney transplantation may worsen sexual function in males, finds study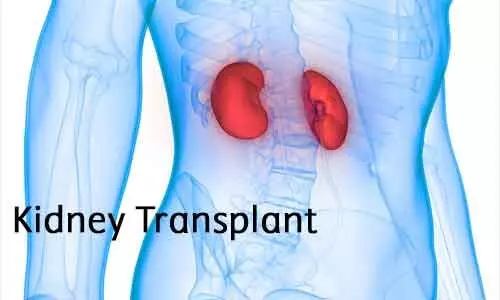 Italy: Kidney transplantation negatively impacts male sexual health, worsens both ejaculatory and erectile function, a recent study in the Journal of Sexual Medicine has suggested. The factors related to erectile and ejaculatory functions after kidney transplantation are -- erectile and ejaculatory function before transplant, time for transplantation, pretransplantation testosterone levels, smoking, hypertension, diabetes, and age.
Lorenzo Spirito, University of Naples, Naples, Italy, and colleagues evaluated the impact of renal transplantation on erectile and ejaculatory function and to assess a possible correlation between some selected patients' characteristics and their erectile and ejaculatory function after the transplantation.
The researchers conducted an observational retrospective analysis on male patients who had undergone renal transplantation from January 2009 to April 2019. Data was collected through the use of a prospectively maintained database. Evaluation of the patients was done before kidney transplant and 6 and 12 months after kidney transplant. A total of 95 patients undergoing renal transplantation for any cause who were sexually active with a stable partner were included in the study. The evaluation of sexual function was available in 56 patients (58.9%).
The main outcome measures included the International Index of Erectile Function (IIEF-15) and the 4-item version of Male Sexual Health Quality–Ejaculation Disorders (MSHQ-EjD Short Form) questionnaires.
Key findings of the study include:
Mean IIEF-15 significantly decreased at 6 months remaining unchanged at 12 months.
Mean MSHQ-EjD Short Form (1–3) significantly decreased at 6-month follow-up and at 12-month follow-up.
Mean MSHQ-EjD Short Form (4) was significantly increased compared with the baseline at both 6 and 12 months.
IIEF-15 was significantly related to the MSHQ-EjD Short Form at 6-month and 12-month follow-up.
Age, diabetes, hypertension, smoking, pretransplantation testosterone, time for transplantation, baseline IIEF-15, and baseline MSHQ-EjD Short Form (1–3) were significantly associated with both IIEF-15 and the MSHQ-EjD Short Form (1–3) at 6-month and 12-month follow-up after kidney transplantation.
"This is the first article that analyzes in-depth the ejaculatory function in patients who had undergone kidney transplantation assessing ejaculation with a validated questionnaire," wrote the authors.
The study, "Impact of Kidney Transplantation on Male Sexual Function: Results from a Ten-Year Retrospective Study," is published in the Journal of Sexual Medicine.
DOI: https://doi.org/10.1016/j.jsxm.2020.07.014
Source : Journal of Sexual Medicine