US Street named after Indian Doctor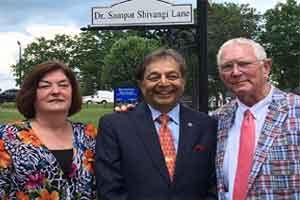 A 1962 batch alumnus of Kasturba Medical College, Manipal, Dr Sampat Shivangi was in the news as a street in the US state of Mississippi was named after him for the services his services to the community. The"Dr Sampat Shivangi Lane" was formally named on Saturday in recognition of Shivangi, an eminent Republican from the state, said PTI in a release from Washington.
Dr Shivangi conveyed the news of the street being named after him to the Chancellor Manipal University, DrRamdas M Pai and in reply Dr Pai wrote; "I am glad to have your e-mail of 24th instant and to know that a street in Mississippi has been named after you.  It is indeed a great recognition of your services to the community.  My congratulations to you". DrPai said, "It is indeed a joyous moment for Manipal University. All of Manipal is proud of the great work Dr Shivangi is doing in the US".
State governor, Phil Bryant also reappointed him for a second sever-year term to the Board of Mississippi's department of Mental Health. In June 2014, he became the first Asian-American to become chairman of the Board which has close to a billion dollar budget with staff strength of over 8500.From 2005-2008, Dr Shivangi served as the Advisor to the US Secretary of Health and Human Services. He is the founding president of the American Association of Physicians of Indian origin in Mississippi and is the past president and chair of the India Association of Mississippi.