USFDA approves SAPIEN 3 Transcatheter Heart Valve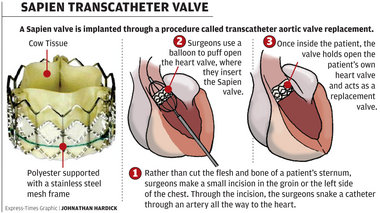 The U.S. Food and Drug Administration (USFDA) states it's approval of the third generation of the SAPIEN THV, which was originally approved in 2011. This edition of the SAPIEN family, to be launched after receiving the approval from FDA on June 17, 2015 is the SAPIEN 3 Transcatheter Heart Valve (THV). Directed to provide solutions for patients, with a narrowing in the heart's aortic valve called aortic valve stenosis; Aortic valve stenosis obstructs blood flow from the heart into the aorta, which can lead to serious heart problems. This medical device is highly recommended for patients, who suffer from severe aortic valves tenosis, and are inoperable or are perceive to have complications associated with open-heart surgery.

A clinical trial and study of 583 patients with aortic valve stenosis who required a open heart surgery, but were advised against due to high risk involved, and were further recommended to use the devise, was taken into consideration by the FDA.

The SAPIEN 3 THV smoothens the blood flow pumping to the heart, disrupted by calcium deposits in the patient's aortic valve. Most of the doctors recommend an open heart surgery, but there are many cases that are prone to an immediate risk association with a heart surgery. Patients who receive the SAPIEN 3 THV, are also prone to death, stroke, acute kidney injury, heart attack, bleeding, and the need for a permanent pacemaker after the implantation.