USFDA takes note of artificial trans fats in processed foods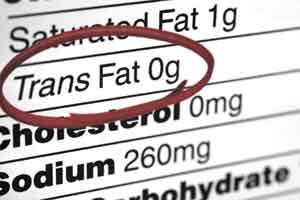 US Food and Drug Administration have now taken a serious cognizance of the situation of chronic cardiovascular diseases; caused primarily by the artificial trans fats (sourced from partially hydrogenated oils) present in processed foods. The authority is of the firm opinion that such foods are not recognized as 'safe' for human consumption and therefore, have directed the food manufacturers to remove primary hydrogenated oils (PHOs) from products, within a stipulated period of three years.

A press statement by USFDA implied the move to reduce coronary heart disease and prevent risk of fatal heart attacks among the Americans.

Food manufacturers have been directed in 2006 to include the nutrition content information on the product facts listed on the packaging. As a result, the USFDA estimates that the consumption of trans fats in US went down dramatically by 78 per cent. With problem of obesity and cardiovascular disease still prevalent in America, the authority is of a firm opinion that consumption of trans fats be brought down further. It should be nil, since diet and nutrition play a key role in monitoring your health, as per the latest declaration by the USFDA. Currently, the permissible limit of listing 0.5 grams trans fats including PHOs is '0' grams trans fats in food products.

To comply to the order of USFDA, to bring up the nutrition value of food products with zero trans fats; the food manufacturing companies have been given a window of three years. This directive will give the companies maximum time to redirect their nutritional formula of food products to include no trans fats, or as permissible per the USFDA guidelines. As a result, no PHOs will be added to the food products without prior approval from USFDA (which will be granted only for specific uses).