Violation of MTP Act: Gynaecologist gets Bail, but cannot practice till Conclusion of trial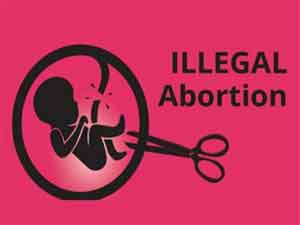 Solapur: The woman gynecologist, who was facing trial with her doctor husband for allegedly conducting illegal abortions in their medical facility, has been acquitted on bail but the High Court has not allowed her to practice just yet.
 "She will not practice medicine till the conclusion of the trial," the Bombay High Court ruled.
It all began in February this year, when Sangola Rural Hospital's medical officer, Dr Sandeep Belapatre, received a tip-off that an illegal Medical Termination of Pregnancy (MTP) was being conducted at the New Dhanashree Hospital and Maternity Home run by gynecologists, Dr Ashwini Jadhavar and her husband, Dr Suhas Jadhavar.
Thereafter, Dr S B Andhurkar, the civil surgeon at Solapur District Hospital sent a team to the location.
While informing Mirror about the probe, Dr Andhurkar said, "During primary investigations, it was found that the Jadhavars had admitted two patients in their hospital for abortion procedures. However, their center had no registration to perform these MTPs. Now, their operation theatre has been sealed, and the hospital's files and other data has been taken away and submitted to the police. An FIR has been filed against the doctor couple."
Subsequently, the doctor couple was arrested under sections 312, 315 and 201 read with section 34 of the Indian Penal Code, and section 5 of the Medical Termination of Pregnancy Act, 1971, reports HT.
During the hearing, the council for the doctors argued that pregnancies were terminated on medical grounds, and therefore there was no violation of the MTP Act.
However, Assistant Public Prosecutor Vinod Chate notified that the couple was earlier tried in 2006 for alleged contravention of provisions of the Pre-conception and Pre-natal Diagnostic Techniques Act.
"She was acquitted, while her husband was convicted after which the Medical Council of India had canceled the license of 'Dhanashree Hospital and Nursing Home'. Later, the couple started running another hospital — New Dhanashree Hospital and Nursing Home — and illegal abortions were carried out there," Chate added.
After going through the submissions, Justice Sadhana Jadhav granted bail to the woman doctor as some of the cases referred involved low gestation period ranging between 8th and 10th week. However, the bench added that the doctors won't be allowed to practice till the pendency of the case.