Walk in Interview: Delhi State Cancer Institute releases 48 vacancies for SR, JR Posts; Details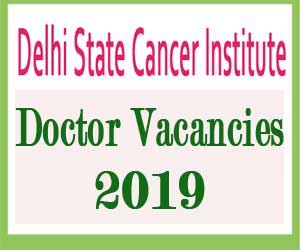 New Delhi: The Delhi State Cancer Institute (DSCI) has released 48 vacancies for the post of Junior Resident and Senior Resident on Adhoc Basis. The Selection will be done based on Walk-in-interview.
(DSCI)
has been established as an independent and autonomous institution by the Government of NCT of Delhi for providing comprehensive management facility with the latest and most advanced techniques available under one roof for patients suffering from cancers - at par with some of the best such institutions in the country as well as at international level.
Date of Walk-in-interview: 11th September 2019
For more details on the qualification, experience, Age, and Pay Allowance click on the following link:
https://medicaljob.in/jobs.php?post_type=&job_tags=Delhi+State+Cancer+Institute+(DSCI)&location=&job_sector=all
Vacancy Details:
Total no of Vacancies: 48
Senior Resident: 28
Junior Resident: 20
The vacancies are in the Department of- Clinical Oncology(Radiotherapy), Anaesthesia & Critical care, Onco Surgery, Nuclear Medicine, Onco Pathology, Paediatrics, TB & Chest, Gastroenterology, and Internal Medicine.
Note
:-
1. The candidature for selection will be accepted on submission of valid 'applied for DMC' for PG within the stipulated period, subject to provision of passing out certificate.
2. Candidates already working in other organization/hospital are required to submit relieving order from concerned organization/hospital before joining. Without the relevant documents, no acceptance/joining to the post of Senior Resident will be allowed under any circumstances. He/She is required to report for acceptance of offer letter within 7 days of issue of this letter in He/She is required to report for acceptance of offer letter within 7 days of issue of this letter in the Admn Branch, Delhi State Cancer Institute, Dilshad Garden, Delhi 110095, failing which offer of appointment will stand cancelled/withdrawn Cuomo to considering that the candidate is not interested. No claim or request for extension of period to join will not be entertained after the cancellation of offer of appointment.
Documents required at the time of joining:-
1. 3 passport size photographs
2. Xth pass Certificate (age proof)
3. All MBBS Mark sheets
4. Attempt Certificate.
5. Internship Completion certificate
6. MBBS Degree
7. PG pass certificate
8. DMC Registration on PG.
9. Publications, if any
10. Caste Certificate, if any
11. Experience certificate, if any
12. Identify proof viz, Aadhar Card, Voter ID card, Driving License, passport etc.