Walk in Interview: ESIC Hospital Kolkata Releases 28 Vacancies for Senior Residents on Contractual Basis.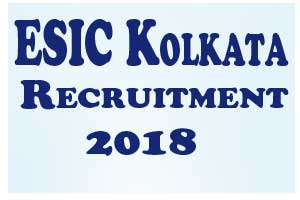 New Delhi: Through a recent notice ESIC Kolkata has released 28 Vacancies for Senior Residents on Contractual Basis. The selection will be done through Walk-in-Interview.
Walk-in-interview will be held on 21.12.2018 at 10 AM.
A walk-in-interview will be held on 21.12.2018 at 10 AM at ESIC Hospital & ODC (EZ), Joka for immediate engagement and drawing up of panel for future engagement of Sr. Residents in ESI PGIMSR, ESIC Medical College and ESIC Hospital & ODC (EZ), Joka in the following departments/specialties. Engagement against Senior Residency Scheme would be for a period of 3 years and engagement against GDMO will initially be for a period of one year and may be renewed/extended on yearly basis for a total period of 3 years including the initial one year, subject to satisfactory performance. Further the panel may remain valid for a period of three months from date of publication of result and may be cancelled/invalidated earlier without assigning any reason.
Candidates who have completed 3 years tenure as Senior Resident in Govt. Institution need not to apply. Senior Resident who are already working in any Govt. Institution shall apply through proper channel. The total period, however, should not exceed the maximum period of three years.
** Above vacancies may increase/decrease as per requirement.
The vacancies are in the Department of Anesthesia, ICU, Blood Bank, Pathology, Dermatology, General Surgery, Chest Medicine, Orthopaedics, Ophthalmology, General Medicine, Microbiology, Pediatrics, NICU-PICU, Anesthesia, General Surgery, Gynae & Obstetrics, General Medicine, Chest Medicine, Ophthalmology, Radio diagnosis.
For more details about Senior Resident, Recruitment click on the given link:
1.
Medical PG Degree in concerned specialty/Department from a recognized Medical Institution.
                                                                 OR
Medical Diploma in concerned specialty/Department from a recognized Medical Institution with 2 years experience from a Medical Institution.
2. MCI/State MC Registration.
Age

:
 Not exceeding 37 years as on 21.12.2018. (Relaxation for SC/ST/OBC/PWD as per rules).
Emoluments:
1. As per 7th CPC LEVEL- 11 in the PAY MATRIX pay of Rs. 67,700/- + other allowances (as admissible as per Hqrs. Instruction).
2. SR against GDMO: Consolidated Rs. 101000/- per month (No other allowances would be payable).
NOTE-1: At the time of Interview the candidates should bring along with them Original plus Attested copies of MCI/State MC Registration/DCI/State DC Registration, Educational qualifications certificates/mark sheets from Matriculation or equivalent onwards, Experience certificate (if any), Proof of Age (Matriculation certificate/Admit Card), Caste certificate (in case of OBC candidate, updated OBC certificate in Govt. of India Format to be submitted), Disability Certificate from Competent Authority, and 2 recent passport size photographs.
NOTE-2: THE CANDIDATES SHOULD REPORT AT 09 AM FOR VERIFICATION OF DOCUMENTS AT ADMINSTRATIVE BLOCK OF ESI PGIMSR AND ESIC HOSPITAL & ODC (EZ), JOKA.
1. Private practice of any kind will not be allowed.
2. No TA/DA will be admissible for joining purpose.
3. Candidate selected for engagement will have to execute a contract on a stamp paper of Rs. 100/-. The original contract will be with the hospital and its copy will be with candidate. Cost of the stamp paper will be borne by the candidate.
4. On engagement Senior Residents will be required to deposit security of Rs. 32000/- (Rupees thirty two thousand only) through Demand Draft in favour of ESI Fund Account No. 1 at the time of joining, which is refundable only after completion of engagement period and on production of "No dues certificate".
5. Residential accommodation will be provided to selected Senior Residents.
For more details click on the original website given below.