Fake Doctor to be booked under culpable homicide, criminal conspiracy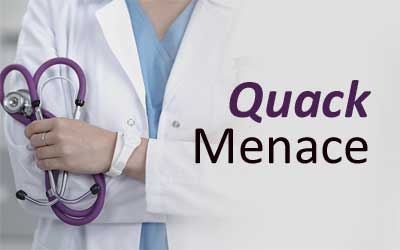 Kolkata: With back to back cases of fake doctors bring reported in West Bengal, the CID is now getting more tough in dealing with these quacks. Various Media reports point out that besides being charged under the various section of the IPC that deal with cheating, fraud and quackery, these fake doctors are also going to be charged under harsher penal provisions including culpable homicide and criminal conspiracy.
Medical Dialogues team had earlier reported that the CBI had arrested a fake doctor Aradeep Chatterjee, from Lake town area. He was running a nursing home at Lake town styled as Critical Cancer Management Research Centre and Clinic. He does not had any medical degree though he pretended to be a doctor with an M. D. degree.When caught Aradeep allegedly confessed that he was indeed using a forged MD degree. Based on their investigations, the police have now slapped a case of culpable homicide against him. Not only this a police officer further informed TOI that Chatterjee was also manufacturing medicines, which are now used under examination, adding that another case pertaining to adulterated medicines may come up against him.
Read also: Bengal : Three More Quacks Arrested, one found posing as Cancer Specialist
In a fresh case, police have now arrested a person from south Kolkata's Jadavpur area for allegedly impersonating as a doctor.
Identified as Subrata Majumdar, the person was arrested on the basis of complaintalleging that Majumdar had no medical degree to be a doctor but wrote his degree as MBBS (Cal) MRCS (Edn) on his prescription. When caught, he failed to provide any certificate on demand, the officer said.
"Accordingly his registration number was verified from West Bengal medical council which shows that he is using false registration number. He has been arrested and booked under several relevant sections of the IPC," he said.
Majumdar was produced at a city court which remanded him to police custody till July 7.
Read also: Bengal Fake Doctor Chapter : Fake Dermatologist arrested