West Nile virus effects 7 year old in Kerala, Know about the Disease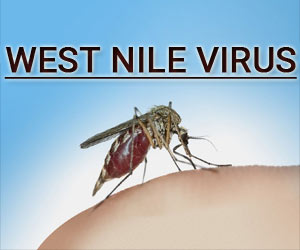 Kozhikode: A seven-year-old boy from Malappuram district has recently been diagnosed with a vector-borne disease caused by West Nile virus causing a central team being sent to the state to review the situation and also help the district administration in its prevention and management. The boy is undergoing treatment in the Kozhikode Medical College hospital.

A health ministry statement said the Centre is closely monitoring the situation and Union Health Minister J P Nadda has directed for all support to be extended to Kerala for prevention and management of the disease, reports PTI. The Health Ministry sent a four-member multi-disciplinary team from the National Centre for Disease Control.

Union Health Secretary Preeti Sudan spoke to Additional Chief Secretary Rajeev Sadanandan  in  Kerala  and took stock of public health measures for controlling the spread of the virus, the statement said.

The Indian Council of Medical Research has also been alerted and a close watch is being maintained at the central and state levels, the statement said.

"There are no reports available so far about the spread of this virus in other parts of the country," it further added said.

WHAT IS WEST NILE FEVER?

According to the National Health Portal, West Nile fever is a zoonotic disease (an animal disease affecting humans). The disease is caused by West Nile virus (WNV), which is a flavivirus related to the viruses that cause St. Louis encephalitis, Japanese encephalitis, and yellow fever. West Nile virus is mainly transmitted to people through the bites of infected mosquitoes. WNV is maintained in nature by transmission between birds and mosquitoes; as birds are the natural hosts of the virus. Humans, horses and other mammals can be infected.

Its symptoms include- Fever, headache, tiredness, and body aches, nausea, vomiting, sometimes skin rash (on the trunk of the body) and swollen lymph glands.

Severe disease such as West Nile encephalitis or meningitis (inflammation of brain and surrounding tissues) show symptoms of headache, high fever, neck stiffness, stupor, disorientation, tremors, coma, convulsions, muscle weakness, and paralysis.

It is caused by West Nile virus (WNV), belongs to the Japanese encephalitis virus (JEV) antigenic complex under family flaviviridae and it gets transmitted via birds and mosquitoes. Humans, horses and other mammals can be infected.

Its various diagnostic tests include IgM antibody capture enzyme-linked immunosorbent assay (ELISA): IgM can be detected from cerebrospinal fluid (CSF) and serum specimens received from WNV infected patients at the time of their clinical presentation. Serum IgM antibody may persist for more than a year.  IgG antibody sero-conversion (or significant increase in antibody titers) in two serial specimen collected at a one week interval by enzyme-linked immunosorbent assay (ELISA); Viral detection by reverse transcription polymerase chain reaction (RT-PCR) assay, and Virus isolation by cell culture.

No specific antiviral vaccine is available for humans for the disease, it can only be managed. In mild infection pain relievers can be used to reduce fever.

For patients with neuro-invasive West Nile virus infection treatment is supportive involving hospitalization, intravenous fluids, respiratory support, and prevention of secondary infections.

1 in 150 persons are infected with the West Nile virus will develop a more severe form of the disease.

About 10 % of patients with neurologic complications may die.

Prevention from the virus can be done by raising awareness among the population about the risk factors and educating people about measures they can take to reduce exposure to the virus are some ways to reduce infection in human population.

Transmission of disease from mosquitoes to humans can be prevented by encouraging the use of mosquito nets, personal insect repellent, by wearing light coloured clothing (long-sleeved shirts and trousers) and by avoiding outdoor activity at peak biting times. In residential areas mosquito breeding sites should be destroyed with the help of community participation.

Persons should wear gloves and other protective clothing while handling sick animals or their tissues, and during slaughtering and culling procedures, for prevention of animal to human transmission.

Blood and organ donation restrictions and laboratory testing should be considered at the time of the outbreak in the affected areas after assessing the local/regional epidemiological situation.