WHO thanks health workers on World Humanitarian Day 2015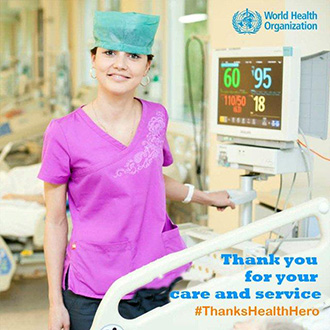 On this 12th World Humanitarian Day, 19 August, WHO is drawing the world's attention to the contributions and sacrifices of health workers who respond to humanitarian crises.

More than a decade since the first World Humanitarian Day, the demands on emergency responders are unprecedented, with 82.5 million people in 37 countries needing humanitarian assistance. The costs, too, are unprecedented, reaching an estimated US$20 billion.

WHO is leading the health response to 5 major humanitarian crises, where more than 60 million people, from West Africa to Yemen, urgently require a wide range of health-care services.

At the heart of humanitarian action are the doctors, nurses, paramedics and other health workers who selflessly serve their communities, often with little access to resources and frequently at great personal risk. Frontline health workers have provided health care to millions of people under the demanding conditions of outbreaks like Ebola, natural disasters, and armed conflict. In West Africa, 875 health workers were infected with Ebola and more than half of them died.

These efforts are made all the more heroic by the increasing frequency of attacks on health care workers and facilities. In 2014, WHO received 372 reports of such attacks in 32 countries, resulting in nearly 1000 injuries and more than 600 deaths. As the world edges closer to the goal of eradicating polio, at least 37 health workers and accompanying personnel have been deliberately targeted and killed since 2012 in Pakistan and Nigeria. Armed conflicts and protracted emergencies frequently leave health facilities damaged, further depriving affected populations of life-saving care. Repairing the health system can take years.

Attacks against health care workers and facilities are flagrant violations of international humanitarian law, including the Geneva Conventions and their protocols. These agreements must be honoured. Health workers have an obligation to treat the sick and injured without discrimination. All parties to conflict must respect that obligation.

As part of the global strategy on human resources for health, WHO is prioritizing the well-being, safety and sanctity of health care workers, and takes a strong position on their protection.

Heath workers struggle every day to uphold the human right to health. On World Humanitarian Day, WHO is launching a campaign to pay tribute to these inspiring health heroes. Between World Humanitarian Day and the World Humanitarian Summit in May 2016, the Organization will be profiling their stories worldwide.