World mental health day, 2015-Facing mental health issues with dignity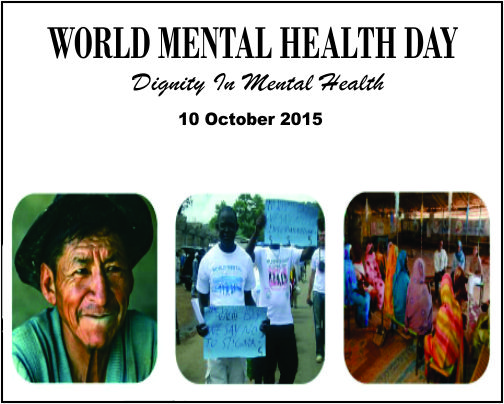 World Mental Health Day, 2015 theme- Mental Health With Dignity.
In our country like ours, where mental illness is always treated with slight disdain and often leads to abandonment of the patient, its important for us to realise that mental health issues are on the rise, can affect anyone and is slowly becoming a part of life.
With Today being World Mental Health Day, 2015 There are few points that I would like to lay down with regards to the current mental health status of the country.
POINT 1- Statistics.
1)    WHO Facts- A Leading cause of Disability Worldwide is untreated mental health disorders  According to WHO, 20% of the Indian Population will be suffering from at least one Mental Health Problem by 2020. Moreover, it says that 60% of Indians facing mental health issue do not seek help, making WHO call Mental illnesses as the "Hidden Emergency"
2)    NIMHANS facts- There are total 7CRORE MENTALLY ILL IN INDIA. Of them, 35 lakh require admission but only 40 institutions dedicated to mental health with about 25000 beds only.
3)    Assocham report:  Truth of the matter is that India has now become suicide capital of world. More unfortunate is that  40 percent of suicides among males and 56 percent of suicides in females are in the age group of 15-24 years and the leading cause is depression. Also 4.2.5% of people working in private sector  are currently battling depression and anxiety and sleep related problem
So in short, the problem is big
Point no 2; Where are the providers?
NHRMC 2013 Reports lays down some facts on the manpower in place to deal with mental illnesses, which are given as follows :-


Present number of psychiatrists in country is 3900 but requirement is 11500


Present number of clinical psychologist is 850 but requirement is 17250


Present number of psychiatric social worker is 900 but requirement is 23000


Present number of psychiatric nurse is 1500 but requirement is of 15000


So in short, there is an acute dearth of health care providers
Point no 3: Financial support


No medical cover provided by insurance companies for those suffering from mental disorders.


W.H.O Mental health Atlas said that India spends only 0.6% of its health budget on mental health, while the corresponding figures in developed countries are around 4%


Point 4: Accessibility problem
1.80% of medical care available for mental health is in private sector, which is expensive.


1 in 50 people have to access to mental health facility in India compared to 1 in 3 developed nations


The district mental health program has only implemented in 123 out of 640 districts in India


Indicative costs for drug treatment for mental illness is quite low compared to many other chronic medical Conditions.  For instance cost of management of Schizophrenia is Rs. 3800 for 3 years, Bipolar mood disorder is Rs 8000 for 3 years, Depression is Rs.3000 for 1 year. But in-spite of low costing of medication, patients are unable to access it 


Point 5: Sorry State of Affairs HUMAN RIGHT WATCH SAYS
1)    Most of mental health institutions are overcrowded with almost three times the number of patients   more than the capacity.
2)    Women are made to sleep on floor they catch their hair shaved off.
3)    Many cases family not ready to own their own relatives.
4)    Many examples of family delaying treatment because of the social stigma attached to it.
With this scenario in mind, it is important that mental health be put in utmost priority and as the theme of World Mental Health Day says its important to treat "
mental health with dignity
"
Which brings me to my
Point 6- What's the way forward?
The theme of " Dignity for mental health" on this World Mental health day, is taken as per the decision taken in U.N convention on the rights of persons with disabilities. It highlights the importance of protecting the human rights of disabled people.
WHO has adopted the trilogy of concept of information, awareness and accessibility to entail healthcare. Following this in the month of October 2014, for the first time, India launched a Mental Healthcare policy highlighting the rights of mentally ill, support given to care givers, as well as community based action increasing " compassion and responsibility."
 Doctors and other healthcare providers have an essential role in all thisIts important, if we actually want to observe this World Mental Health Day with its true meaning, is to take a pledge as doctors that we in particular will treat patients suffering from Mental Illnesses with dignity, will help them fight for their much deserved human rights and make an effort to provide them access to healthcare, no matter what our field of speciality