Yogi Aditynath launches MR vaccination programme in UP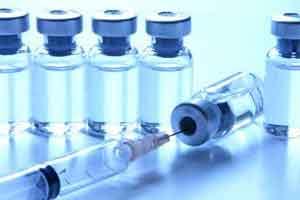 Lucknow: Uttar Pradesh Chief Minister Yogi Adityanath on Monday inaugurated the Measles and Rubella (MR) vaccination programme in the state which is sponsored by UNICEF India.
Speaking in the function the Chief Minister said that this programme will provide good health to the children.
Lauding the effort of the state health department, the CM said in Gorakhpur's B R D Medical college every year around 600 children used to be admitted in which 150-200 used to die due to encephalitis. " But this year just 86 children were admitted and only 6 died so far," he claimed.
Yogi said that polio has been eradicated from the state and now other prevailing diseases should be wiped out.
"This MR vaccination programme is one of the biggest drives in the country when around 410 million children would be administered the vaccination. Both Measles and Rubella are the disease infected in the children from birth and hence it should be prevented from the birth of the child," he said.
The CM also stressed the need for creating awareness among the people and educate them for the success of this drive. MR drive which covers children between the age group of nine months to 15 years, who will be vaccinated. Officials said that the vaccination will be provided irrespective of any previous vaccination, even if the child had been vaccinated earlier or was not vaccinated, the MR vaccine will be administered.
In the initial weeks of the campaign, it will be spent in schools where children will be vaccinated. Unlike the polio campaign, the MR vaccination campaign will not be a 'door-to-door' campaign, but it will have fixed sessions at health facilities with outreach sessions in villages/urban areas and mobile posts being set up in several areas.
About eight crore kids need to be vaccinated in the state of UP alone disclosed State Immunization Officer from Directorate of Family Welfare Dr AP Chaturvedi.
He also said that the last one week of the programme will serve as a 'catch-up' campaign for the people left out before, adding that the timings for the conduction of the campaign will be from 0900 hrs to 1600 hrs.
He said that the vaccine is said to provide protection in 90 per cent or most of the children Deputy Chief Minister Dinesh Sharma, State Family Welfare Minister Rita Bahuguna Joshi and her deputy Swati Singh were also present on the occasion.