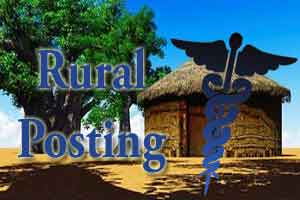 Dehradun: The Uttarakhand government's stringent move of serving notices to doctors who had not served compulsory rural service in the state seems to be showing positive results. According to recent media reports, among the 240 doctors who violated the compulsory rural services, 100 doctors are likely to join their duties after the Uttarakhand government sent them notices.
These are medical practitioners who awailed MBBS courses at subsidized rates in state-run medical colleges and at the time of admission signed a bond that mandates them to serve in the hills after completing their course.
Medical Dialogues team had earlier reported that the Uttarakhand government sent notices to 240 doctors who not fulfilled their commitments to serve on rural or hilly areas. It is reported that while many medical practitioners were refusing to take the government's orders to go to far-flung areas, threatening to go to court; the state government, on the other hand, through the notice threatened to Suspend those, who do not follow its orders.
Read also: Uttarakhand: 240 Doctors May face Suspension
"Over 213 had not joined work while another 218 of them joined but had been reported 'missing' from their duties thereafter. Ever since notices were issued to them, around 100 of them have shown willingness to join work while another 100 have sought time to get relieved (from their current jobs) and report back to work," director medical education Dr Ashutosh Sayana told Hindustan Times 
"Recovery notices (against the bond amount) will now be sent to the doctors who have not responded so far, following which legal action will be taken against them as well as their guarantors," Sayana added.
Taking the matter seriously the state government came with a decision the medical students joining Doon Medical College will have to be part of the state government initiative for working in the hills (rural tenure), as a compulsory part of the internship programme of the Medical College. This comes with the government's announcement that students passing out of Doon Medical college will have to sign a bond stating that they will work in the hills, otherwise, they will not be given state registrations.
Read also: Uttarakhand: Compulsory Rural postings for passouts of Doon Medical College
0 comment(s) on 100 Absconding Doctors to join back duties after notices served: Uttarakhand Govt