10,000 Doctors submit their mass resignations in Rajasthan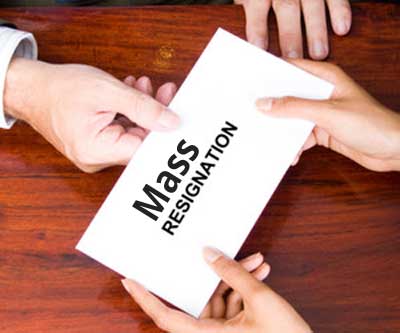 Jaipur: Dissatisfied with the nonfulfillment of their long terms demands, around 10,000 government service doctors were seen submitting their mass resignations today.
Doctors gathered in numbers of hordes in a local school in Jaipur, where they handed over their resignation to the All Rajasthan In Service Doctors Association (ARISDA) in support of their 33 long-pending demands. The resignation will be effective from 6th November, 2017, till which the doctors have given time to the government to fulfil their demands.
The demands include formation of a separate cadre for in-service doctors, Rs 10,000 grade pay benefit to doctors, rectification in salary discrepancy, housing facility and safety for all doctors, said Dr Ajay Chaudhary, president ARISDA.They are also demanding for running government health centres in a single shift and rural allowance, he said.
Speaking to
DNA
, Dr Chaudhary further added" The 33 points demands, is a white paper, not only for the doctors but also for improving health facilities in the state. Doctors do not have intentions to create problems for patients by submitting a mass resignation, but we are forced to do it. From November 6 we will not go on duties at hospitals."
Medical Dialogues team had earlier reported that even last month the government doctors had announced a mass leave following the nonfulfillment of these very demands, however, the government had invoked Rajasthan Essential Services Maintenance Act (RESMA) to prevent doctors from going on strike.
Now in response, doctors have submitted their mass resignations.
Read Also: Rajasthan doctors on one day mass leave, govt invokes ESMA
There are 10,000 doctors who are protesting for the demands to be fulfilled.