19 KGMU Urology Doctors file Harassment complaint against Senior Professor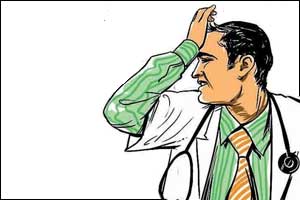 Lucknow: The Urology Department at King George's Medical University (KGMU) has again found itself surrounded by controversies after the resident doctors of the department complained to the Vice Chancellor stating harassment by the department seniors. Last month, a senior doctor from the department had received suspension orders for indulging in private practice
The Junior doctors working at a particular unit in the Urology Department at King George's Medical University (KGMU), have written a letter to the Vice-Chancellor, KGMU stating that the senior doctors including one professor are harassing and abusing them. The detailed complaint throws a number of allegations against the senior, with harassment being done through doing personal work, to being regularly abused, to even blackmail of failing in the exams
"We all are from very well respected families from various states of the country, and we all have at least ten years of experience in medical life before coming to KGMU. Such tyranny and abusive behaviour is unparalleled and has never been faced by any of us before in our previous institutions. As per medical tradition, we have been taught to respect our seniors and teachers even to the point of bearing their anger sometimes. But, now we are facing extreme mental harassment and torture from them on a daily basis and it is increasing in severity day by day. Our postings in their unit are like spending our time in a torture chamber." the letter signed by 19 doctors stated.
Their complaint highlights their plight as following


We are asked to ferry them, their relatives, and any person known to them in our personal vehicles to anywhere in Lucknow during duty hours and even after that.

They order us to do this which we have to comply or else face consequences.



We are abused on a daily basis on non-work related issues by using foul language such as: 'tum log neech ho, makkar ho, tum log hijjare (enunchs) ho, tum log gadhe ho, tum ullu ke patthe ho'. Off late, he (Prof) even went ahead and gave us death threats.


Almost every day, one of the residents is being called during off-duty hours to go and see his personal patients or patients from his village in other departments and order to get them admitted in those departments at any cost, or he will unnecessarily torture us.



On daily basis, we are made to stand for many hours in their chamber, where majority of the times, each one of us are harassed one by one and other faculty members are verbally abused.




When we are posted in their unit, they often throw us out of the unit for the complete 1-2 months of tenure, when they think that a resident is favoured by other faculty members




They don't let us follow the rotation in different units according to duty roster issued by the head of the department.



They ask us not to get OT fees (according to university rules) deposited for the various procedure for patients whom they want to oblige. Their behaviour in front of all of the patients who hold any kind of influence in society (lawyers, media persons, judges, bureaucrats, politicians, and even their servants), who in any way can benefit them in future. changes drastically to appease them, and also they belittle and abuse us in front of them. We are forced to arrange medicines/ by medicines from our pockets for these kinds of affording patients.



Poor patients are often treated very badly in the OPDand he often shouts on them.



They blackmail us that if we don't comply with their unjustified orders, as an examiner, they will not let us pass the MCh final exams and file false cases against us in the administration.



 They even intimidate a few patients to write complaint letters against any resident so that they can use it to blackmail us to their advantage.




They even make residents sit along with the receptionist in their ON, to make Sure that the patients are evenly divided between them.



"We all request you to take stern action in this matter on an urgent basis in the interest of junior doctors, patients of this institute and future residents." the letter asked the VC