2 doctors suspended on refusal to examine 5 year old rape victim, FIR under POCSO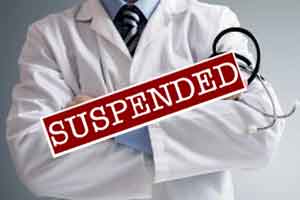 Ayiroor: Two government doctors of Kerala's Pathanamthitta District hospital have been suspended for refusing to examine a five-year-old sexual assault victim. This is the second case being reported in recent times when action has been taken against government medical practitioners for not showing prompt attention to assault victims.
 A recent report in Mathrubhumi states that Dr MC Ganga and Dr Lekha of the Kozhancherry district hospital had allegedly refused to examine the girl who was brought by policemen of Koyipram station. With the complaint being registered on 15th September 2015,  the Pathanamthitta District Collector R Girijahas filed a report on the district hospital finding serious lapses on part of the medical practitioners
It is further reported that the hospital did not perform its duty as the five-year-old victim had to wait for six long hours in the hospital to get treatment. Moreover, it was observed that Dr Ganga and Dr Lekha in the Gynecology department refused to examine the child, after that the girl was taken to the hospital accompanied by Police.
Deccan Herald reports that Dr M.S. Ganga, duty doctor at the hospital has been charged under section 166A (disobeying direction under law)of IPC and 166B. The police further told the daily that case would be initiated against Dr Lekha after vetting the attendance register. Media reported further add that FIR has also been registered under Section 26 of The Protection of Children from Sexual Offences Act  ( POCSO)
POCSO special court public prosecutor Hansalah Muhammed told News Minute "Under POCSO section 26 also this is an offence. This offence can get a punishment of six months to two years. Police have approached me asking legal advice in this case,"
The District Collector R Girija has further requested the Health Minister K K Shylaja to take strict and appropriate action against the doctors for their inefficiency in handling such sensitive cases.
FIR under POCSO
The local association of medical practitioners has shown strong objection to the framing of POCSO charges against the doctors
"There is no legal authority for the police to frame POCSO charges against the medical officers under the law. It is in this backdrop that the police has filed FIR under POCSO against the doctors,"  Dr Madhu V and Dr Raoof A K, state president and secretary of Kerala Government Medical Officers Association told TOI
This is the second case in a month when the government has taken a serious action against doctors for not showing prompt attention to victims of sexual assault. Medical Dialogues team had earlier reported that the Delhi government suspended the casualty medical officer at Chacha Nehru Baal Chikitsalaya Hospital over "grave negligence" in connection with the case of rape of a minor in a school.
Read also: Delhi Doctor suspended for turning away rape minor, disciplinary action against hospital director