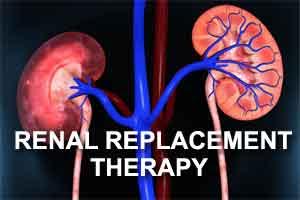 With kidney-related diseases on the rise, 220,000-275,000 patients need Renal Replacement Therapy (RRT) in India every year, experts have said.
According to them, several Indian population-based studies in the past estimated the incidence of End-Stage Kidney Disease (ESKD) at 150-230 per million.
"There are different kinds of renal diseases, some even leading to end-stage kidney disease (ESKD). Among the major reasons behind the damage of kidneys are diabetes, hardening of arteries and high blood pressure. The number of people needing the RRTs have increased over the years," said Ramesh Jain, head of center for Kidney Transplant and Renal Sciences at city based Saroj Super Speciality Hospital.
Renal replacement therapy (RRT) is therapy to replace the normal blood-filtering function of the kidneys. It is used when the kidneys are not working well, which is called renal failure and includes acute kidney injury and chronic kidney disease.
He said the number of Indians suffering from kidney failure has doubled in the last 15 years with a 10 percent rise in the number of citizens undergoing dialysis.
Experts have said that approximately 75,000 patients are on dialysis, which is growing at the rate of 10-20 percent annually in India.
Elaborating, D.K. Aggarwal, Senior Nephrologists Apollo Hospital, said: "The real problem however lies in the diagnosis of the disease because unless there's a tumour or the kidneys are swollen, it becomes difficult for the doctors to check by simply feeling the kidneys. So a lot of cases goes undiagnosed at the initial level and become prominent only when the situation deteriorates."
He said there are tests that check the kidney tissues, take urine samples and check for protein, sugar, blood and ketones.
"End-stage kidney failures are only controlled by dialysis or kidney transplant. Dialysis can be done once a week or more often depending on the condition. However it is important to have dialysis facilities in all hospitals, which has been a failure till now."
According to the health ministry, 2,000 new dialysis centres will be set up at district-level hospitals in the country within the next two years to tackle the problem.
0 comment(s) on 220,000 patients need renal replacement therapy every year in India