250 Renal Transplants conducted at SKIMS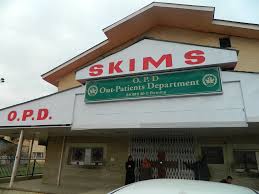 Srinagar: The Department of Urology and Kidney Transplant Unit (KTU) at the Sher-I-Kashmir Institute of Medical Sciences (SKIMS) has successfully conducted record 250 kidney transplants till date, making it at par with any other centre in the country, an official of the institute said.
According to Saleem Wani,  Head of the Department (HoD) in Urology, renal transplantation has increased patient survival and it is in this context that SKIMS, Soura Srinagar took a lead in human organ transplantation in the state and Kidney Transplantation programme was established in SKIMS in 1999.
The Institute was authorised to carry Renal Transplantation in 1999 as per the J&K Transplantation of the Human Organ Act 1997 and is the only centre in the state authorised to do kidney transplantation.
SKIMS being the apex institution of the state, not only accepts patients from the state, but also from the neighbouring states of the country, thereby providing an opportunity to the people with such ailments to avail
better quality treatment with lower costs than the corporate hospitals, he explained.
Dr Wani lauded the administration for its continuous support and said that to start with, SKIMS had only two bedded Transplant unit which has been upgraded to 12-bed unit.
He hoped that separate Nepro-Urosciences hospital will be established as proposal for same has been submitted to the administration for consideration, so that cadaver transplant programme can also be started.
However, he said there is a huge gap between availability and demand of the organs for transplantation. The future of solid organ transplantation is the Cadaver transplantation and the public needs to be made aware of the concept of Brain death.
Fatal road accidents leading to brain death is on the rise and there is potential for huge Brain dead Donors. The number of fatal road accidents every year in the country is 85000 and on an average there are 8-10 brain dead patients every day in ICUs in major cities, he added.
Dr Wani insisted that awareness in Medical fraternity and community at large is required for the success of the program. It is awareness programs in the form of Continued  Medical Education (CME's), public meetings, awareness through print and electronic media which created positive attitude among masses and lead to Husbands donating to Wives, Unmarried sisters donating for their sisters and brothers, Unmarried daughters donating for their fathers, Brothers donating for their sisters and Pediatric transplant.
Director SKIMS appreciated the department for running the program successfully and alleviating the problems of poor patients. He said the excellent outcome of the transplant program is the result of untiring efforts of the dedicated and committed team of Transplant Surgeons, Transplant Nephrologists, Transplant Anesthesiologists, Immunologists besides highly trained OT and KTU nursing team.
It is important to mention Kidney failure is a major public health problem worldwide and the Incidence and prevalence is on rise. CKD is a common, harmful &treatable disease. Causes of kidney failure are Diabetes, Hypertension, Glomerulonephritis, Polycystic kidney disease and pain killer abuse.
Organ transplantation saves lives in patients affected by terminal organ failures and improves quality of life. Organ transplantation has gradually taken centre stage in treatment of end stage organ failure and provides excellent results in children and young adults. Solid organ transplantation programme activities have steadily grown in last two decades and is essential for developed and mature health care systems. Life- saving transplants are indispensable to treat patients with kidney, liver, heart or lung end stage diseases.
Renal transplantation is procedure of choice & cost-effective strategy for management of end stage renal disease (ESRD) patients and successful renal transplant leads to improvement in quality of life.