3 Yr old Rudraksh defies rare life threatening condition at Jaypee Hospital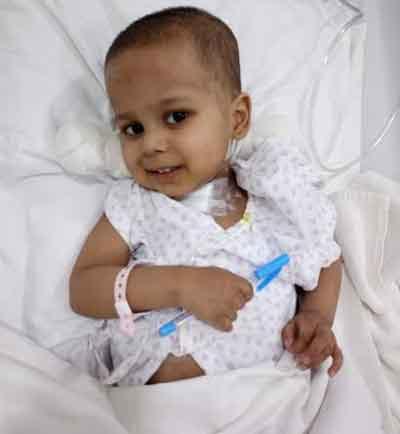 Doctors at Jaypee Hospital have redefined their continuous efforts towards humanity. The team of paediatric surgeons led by Dr. Rajesh Sharma have successfully operated a 3 yr old orphan kid Rudraksh. An orphanage in Mathura takes care of him. The surgery that Rudraksh underwent is possible only in 3 – 4 places in India.
Dr. Rajesh Sharma, Director of Paediatric Cardiac Surgery Department at Jaypee Hospital explaining the disease that Rudraksh was suffering from said, "Rudraksh was suffering from 'CORRECTED TRANSPOSITION OF GREAT ARTERIES' (CTGA). In this disease the heart's formation is completely opposite to the natural biological formation. In this disease the body doesn't turn blue but the patient is always at a risk of a heart failure in future. That is why this disease needs to be cured by the age of two – three so that the body can develop and function in a right way."
According to Dr. Sharma, "To save Rudraksh's life Double Switch Surgery was performed on him. Although the surgery was successful but his heart didn't recover after Cardio Pulmonary Bypass. So, Rudraksh had to be shifted to I.C.U with ECMO (EXTRACORPOREAL MEMBRANE OXYGENATION). After 72 hours of critical observation when the pace of his heart and Contractility improved, Rudraksh was removed from ECMO and after four days of intensive treatment his chest was closed."
Dr. Sharma added, "After 48 hours of closing his chest, Rudraksh was removed from the ventilator, but since he was facing problem in breathing due to increased work of breathing secondary to myocardial dysfunction we had to put him back on the ventilator. To take him off the ventilator TRACHEOSTOMY was done. Along with this a high calorie and high protein diet was given to him through N.G.  feeding so that he can have a speedy recovery.
Ten days after the surgery was performed Tracheostomy was removed and Rudraksh was shifted to general ward. Rudraksh is recovering now and the condition of his heart is stable.