300 AMRIT pharmacy outlets soon across country: Centre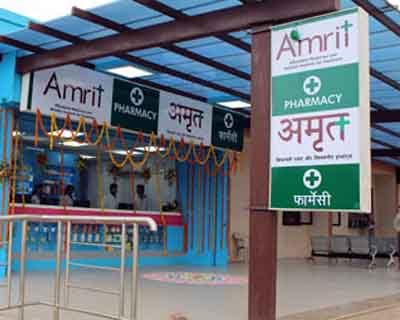 Varanasi : The Union government would soon open 300 pharmacy AMRIT outlets in different parts of the country to provide affordable medicines to the people at a discount rate of 60-70 per cent, Union Health and Family Welfare Minister Anupriya Patel said.
She said this while inaugurating Uttar Pradesh's first AMRIT pharmacy outlet at Sir Sunder Lal Hospital of Banaras Hindu University here.
Patel said the pharmacy outlet 'Affordable Medicines and Reliable Implants for Treatment' (AMRIT) is an effort of the Narendra Modi-led NDA government to reduce the expenditure incurred by patients on treatment of cancer, cardiovascular and other diseases.
On these AMRIT outlets, medicines will be available for the common people at a discount rate of 60-70 per cent, she said.
Nearly 164 cancer drugs, 124 cardio drugs and 24 cardiac implants and 2,146 other medicines and surgical disposables would be available at the AMRIT outlet in BHU, Patel said.
She said the medical burden is one of the cause of rising poverty in the country and this initiative of the Union government's Ministry of Health and Family Welfare would help the underprivileged get lifesaving drugs at an affordable prices.