4 pathologists suspended for signing unverified reports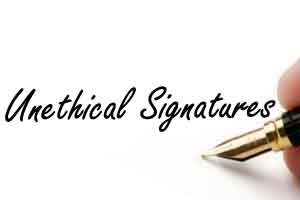 Maharashtra: Maharashtra Medical Council has initiated action four pathologists on the grounds of giving their signatures to the pathology reports without duly verifying the same. The doctors will face suspension of minimum six months, sources point out.
The concerned pathologists have been identified to be S M Tripathi from Worli, Pravin Shinde from Navi Mumbai, Ketan Davada from Thane and Marutrao Pawar from Karad . As reported by Indian Express Tripathi had been providing his signature on pathology reports prepared by seven labs in Mumbai, Shinde had been attached with over 20 labs in Navi Mumbai and Davada with more than 30 labs in Thane. Pawar was attached with 10 labs, which were at least 25 kilometres apart, in Satara. He also worked full-time as a lecturer at Krishna Institute of Medical Sciences. 
While its not against the law for a pathologist to be associated with more than one pathology labs, the norm does require them to be physically present for sample testing, analysis and the signing the report. Officials at MMC have pointed out it is not physically possible for these doctors to visit all these pathology labs in a single day, let alone verify the reports.
The original tip of this ongoing "business" of pathologists was given last year to the MMC by Maharashtra Association of Practicing Pathologists and Microbiologists ( MAPPM) pointing out to such malpractises. MAPPM had also pointed out to the mushrooming of illegal pathology labs in the state.
Read Also : MMC finds Pathology Labs without Pathologists
The MMC has now formed a five-member committee to submit recommendations on comprehensive guidelines for registered pathologists in the state. The committee will also lay down guidelines for minimum number of laboratories a pathologist could attach himself or herself with. This will ensure a pathologist is not attached with a lab for just monetary benefits as reported by Indian Express.
Read Also: Delhi Medical Council warns pathologist against unethical signatures