Fire breaks out at private hospital in Warangal, 2 dies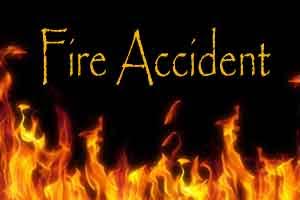 Hyderabad: In a major fire breaks out at a private hospital in Warangal city of Telangana, two patients died. The fire breaks out due to leakage of an oxygen cylinder
The incident took place at around 6 pm at Rohini Hospitals in Hanamkonda area. The doctors were performing a surgery in the operation theatre, where the leakage of gas reportedly took place.
Over 400 people, including 190 patients, were rescued, police said.
Smoke engulfed the four-storied hospital after an oxygen cylinder exploded apparently due to short circuit and minor flames erupted in one part of the building, though it was immediately extinguished, a senior police official said.
"As many as 193 patients, who were undergoing treatment at the hospital along with their attendants among others — all totalling over 400 — were rescued," the official, who was part of the rescue operation, told PTI over phone tonight.
The patients were shifted to different hospitals in Warangal, however, one 45-year-old patient, whose condition had got critical due to "suffocation" in view of the smoke died at another hospital, the official said.
He added that the condition of an another patient is also critical even as he clarified that no one died in the hospital where the fire incident occurred.
Deputy Chief Minister Kadiam Srihari, who visited the hospital and supervised the rescue operation, ordered an inquiry into the incident.
Meanwhile, Warangal Commissioner of Police G Sudheer Babu said he has constituted a team involving officials from the police, fire and electricity departments to determine the exact cause of the fire.
Probe is on, added the official.