50 bedded integrated AYUSH Hospital inaugurated at Monte Hill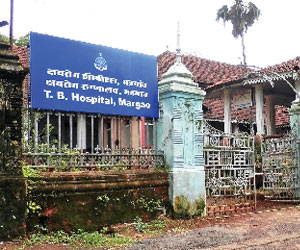 "If we adopt the AYUSH medical facilities, which are preventive, I am sure in the coming ten years, we will not only find healthy society but even budget of Health Department will definitely come down by 25 per cent''
Panaji:  Union Minister for AYUSH (Independent Charge) Shripad Naik laid the foundation stone for 50 bedded integrated AYUSH Hospital at T B Hospital Premises, Monte hill, Margao, in South Goa, on Saturday.
South Goa MP Narendra Sawaikar, Rajya Sabha Member Vinay Tendulkar, local MLA Digambar Kamat, Director of Health Services Sanjiv Dalvi, Deputy Director of Health Dr D'sa; Goa State Infrastructure Development Corporation (GSIDC) Managing Director Jude, Chairperson, Margao Municipal Council (MMC), Dr Babita Angle Prabhudesai and MMC councilors were present on the occasion.
Read Also: AYUSH Ministry committed to promote use of traditional medicine in public health system: Shripad Naik
Speaking on the occasion, Mr Naik thanked Prime Minister Narendra Modi for spreading yoga throughout the nation, for understanding the inner strengthens of thousand years old preventive medicine system of the country and creating separate ministry as AYUSH through which medical facilities of Ayurveda, Yoga, Naturopathy, Siddha, Unani and Homeopathy are provided for the welfare of people.
''If we adopt the AYUSH medical facilities, which are preventive, I am sure in the coming ten years, we will not only find healthy society but even budget of Health Department will definitely come down by 25 per cent,'' he added.
Mr Naik said through AYUSH mission, he had tried to give one hospital at the district level with all facilities.
''Doctors are also made available through PHC, CHC. The medical facilities which are provided through AYUSH is committed to Veda and is globally excepted now. We are focusing on research centre for improving this medicine system,'' he added.
Read Also: AYUSH Minister lays foundation stone of largest Unani Medicine institute in North India
Further speaking he said in India, at present, there are 30 research centres of Ayurveda and 22 research centres of homoeopathy providing better medical facilities. He also informed the All India Institute of Ayurveda (AIIA) in Delhi provides all Medicare facilities and almost 2000 patient takes treatment. ''Focus is laid to build more national institute though AYUSH which already has 8-9 in India.
Projects are started in 26 States through AYUSH mission and out of 176 projects 125 are approved and 70 already completed,'' he pointed Mr Naik also highlighted on their upcoming projects AIIA in Dhargal, for which two lakh sq mts land is already sanctioned by Government and will have research centre, 200 bed hospital, OPD and other facilities like Post Graduate college limiting 60 seats. He said out of 12000 wellness centres under Ayushman Bharat Yojna, at least 2-3 centres will be opened in each taluka of Goa and will have all Medicare facilities.
Narendra Sawaikar said he is happy to say that two hospitals is coming up in Goa i.e. in Pernem National Ayurveda Research centre and in south 50 bedded integrated hospital. ''Mr Naik has given justice to AYUSH Ministry for the last 5 years. Even The International Yoga Day which celebrated globally on 21st June, in India started under the leadership of Mr Naik,'' he remarked.
Read Also: Goa Governor says Yoga is becoming binding force in world
Mr Sawaikar said slowly people had started accepting Ayurveda and requested Mr Naik to start the short term massage courses or related courses for the students who had studied up to 12th, so as to create more employment opportunities to the youths.
Mr Tendulkar, Mr Kamat and Ms Prabhudesai also spoke on the occasion.