50 percent reservation in PG seats for MBBS who serve in remote areas: IMC Amendment Bill 2016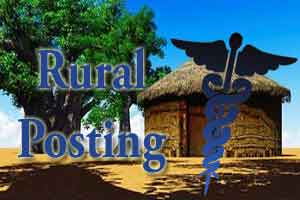 New Delhi: To address the acute shortage of medical practitioners in remote areas of the country, the government is soon going to offer a substantial benefit in the postgraduate courses for all those who serve in remote/rural areas.
In the draft of Indian Medical Council (Amendment) Bill, 2016 that has been recently issued by the Ministry of Health and Family Welfare, the government has proposed  50%
 reservation
 of seats for post graduate courses in government colleges for those who have served at least three years in government healthcare institutions in remote and difficult areas.
Through the amendment bill , the ministry is seeking to insert a new section to the section 20B of the act, stating
Upto 50% of the seats in Post Graduate Courses in Government Colleges may be reserved by the appropriate State Governments/UTs for Medical Officers in the Government services, who have served for at least three years in remote and difficult areas. After acquiring the PG Degree, the Medical Officers may further be required to serve for a period up to three years in remote and/or difficult areas by the State Governments/UTs concerned. Admissions to this quota would strictly be on the basis of NEXT merit list only.
Ministry of health has issued the draft amendment bill and is inviting suggestions/feedback in respect of the draft Bill. Suggestions may be furnished to mepsection-mohfw@gov.in by 06.01.2017.
[poll id=32246]