Hyderabad: Yashoda Hospital Vandalised over death of a patient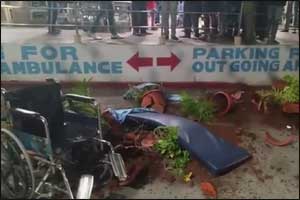 Hyderabad: The family of a 24-year-old man, who underwent a brain surgery at Hyderabad's Yashodha Hospital and later died, vandalised the hospital.
According to Raju's family, he was admitted here after he got injured while playing cricket.
They claimed that the doctors performed a brain surgery and raised a bill of Rs 7 lakh for the 10-day treatment.
They further said that once the bills were cleared, the hospital declared Raju dead.
An investigation is underway.



Telangana: Family of 24-year old patient who died after brain surgery and being charged Rs 7 lakh for treatment vandalised property at Hyderabad's Yashodha Hospital last night pic.twitter.com/SGRKj4HAq5


— ANI (@ANI) January 28, 2018
In the recent, corporate hospitals have fallen under the grave controversy of overcharging and improper treatment, especially in case of ICU-patients. Recently, Fortis Hospital Gurugram faced the wrath of the general public as well as the government, following the death of a 7-year-old dengue patient Adya Singh
In the investigation process, the government-appointed committee found hospital guilty and imposed the criminal negligence charges. Later the hospital received the license suspension order from the government for blood bank and pharmacy.
The similar incident was reported at Medanta-The Medicity, where the hospital faced allegations for overcharging in the treatment of a 7-year-old dengue patient, who later died after being shifted to another Delhi hospital