7 MCI Debarred Medical colleges get new lease of life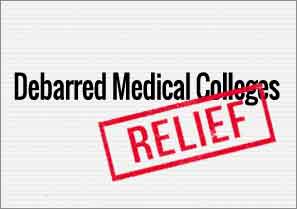 New Delhi: In response to the Supreme Court directive asking the central government to take a reasoned decision with regards to granting permission to medical institutions to admit students, the Ministry of Health and Family Welfare has now issued point by point reasons, why it has denied or given permission to medical colleges based on the recommendations of the Medical Council of India. In certain cases, some colleges have been spared from debarment of two years, with some being given permission for this year, others being allowed to apply next year.
Medical Dialogues had earlier reported that hearing the case of denial of permission to IQ Medical College, the apex court had found the central government deficient in providing their reasons and observed that Centre should take an informed decision in consultation with the newly constituted Oversight Committee, within two weeks.
Read Also: Lapse in permission of Medical Colleges could invite calamity: SC tells MCI
"As we find the order of the central government is not a reasoned one, it is obligatory on its part to ascribe reasons," it said. The court directed the Centre to afford a further opportunity of hearing to the college representatives and take a decision which should contain reasons. The matter had been listed for 24th August 2017.
Following the said directives, the Ministry of Health and Family welfare has now issued reasoned Orders, giving the point by point response as to why certain medical colleges were denied/given permission. With a repeat opportunity of hearing given to medical colleges, 7 of them have managed to convince the hearing committee and gain a lease of life, by turning decision in their favour, albeit partially. Namely









Following are the details of medical colleges, whose detailed reasoning have been given by Ministry of health ( you can click on the college name to get the respective reasons)




S.NO


 Name of College


Before


 Present Status


Session


Seats




1


Akash Institute of Medical Sciences, Devanhali, Karnataka


 Debarred


 permitted


 2016-17, 2017-18




 150




2


Annaii Medical College & Hospital, Tamil Nadu


 Debarred


 Debarred


 2017-18, 2018-19

(Can apply fresh application for 2019-20 admission)








Apollo Institute of Medical Sciences, Andhra Pradesh


  Debarred


 permitted


 2016-17 (permitted), 2017-18 (denied)

(Can apply fresh application for 2018-19 admission)






4


Gayatri Vidya Parishad Institute of Healthcare and Medical Technology, Visakhapatnam, Andhra Pradesh


 Debarred


 permitted


 2016-17, 2017-18

(Can apply fresh application for 2018-19 admission)


 150




5


Glocal Medical College, Super Speciality Hospital & Research Centre


 Debarred


  Debarred


  2017-18, 2018-19

(Can apply fresh application for 2018-19 admission)






6


Kanachur Institute of Medical Sciences and Research Centre, Mangalore, Karnataka


 Debarred


Debarred


  2017-18, 2018-19

(Can apply fresh application for 2018-19 admission)






7


Krishna Mohan Medical College and Hospital, Mathura, UP


 Debarred


Debarred


   2017-18, 2018-19

(Can apply fresh application for 2018-19 admission)






8


Nimra Institute of Medical Sciences, AP


 Debarred


 permitted


  2016-17, 2017-18


 150




9


Ponnaiyah Ramajayim Institute of Medical Sciences and Technology, TN


 Debarred


 Debarred


    2017-18, 2018-19

(Can apply fresh application for 2019-20 admission)






10


Prasad Institute of Medical Sciences, Lucknow, UP


 Debarred


 Debarred


     2017-18, 2018-19

(Can apply fresh application for 2019-20 admission)








11


RVM Institute of Medical Sciences and Reseach Centre, Telangana


 Debarred


 Debarred


   2017-18, 2018-19

(Can apply fresh application for 2019-20 admission)






12


RVS Institute of Medical Sciences, Srinivasa Educational Academy, Chittoor AP


 Debarred


 Debarred


    2017-18, 2018-19

(Can apply fresh application for 2019-20 admission)






13


Sakshi Medical College and Research Centre


 Debarred


 Debarred


     2017-18, 2018-19

(Can apply fresh application for 2019-20 admission)






14


Saraswati Medical College, Unnao,UP


 Debarred


 permitted


 2016-17 (permitted), 2017-18 (denied)

(Can apply fresh application for 2018-19 admission)






15


 Venkateshwara Institute of Medical Sciences, UP


 Debarred


 Debarred


      2017-18, 2018-19

(Can apply fresh application for 2019-20 admission)






16


 World College of Medical Sciences and Reseach, Jhajjar


 Debarred


 Debarred


       2017-18, 2018-19

(Can apply fresh application for 2019-20 admission)






17


 American International Institute of Medical Sciences, Udaipur


 Debarred


 Debarred


      2017-18, 2018-19

(Can apply fresh application for 2019-20 admission)






18


Mahavir Institute of  Medical Sciences, Telangana


 Debarred


 Debarred


      2017-18, 2018-19

(Can apply fresh application for 2019-20 admission)






19


NC Medical and Hospital Panipat, Haryana


 Debarred


 Debarred


       2017-18, 2018-19






20


AL-Azhar Medical College and Super Speciality Hospital, Todauzha, Kerala


 Debarred


 permitted


  2016-17 (permitted), 2017-18 (denied for 150 seats)

(Can apply fresh application for 2018-19 admission)






21


D M Wayanad Institute of Medical Sciences, Wayanad, Kerala


 Debarred


 permitted


   2016-17 (permitted), 2017-18 (denied for 150 seats)

(Can apply fresh application for 2018-19 admission)






22


Kerala medical college Palakkad


 Debarred


 Debarred


     2017-18, 2018-19

(Can apply fresh application for 2019-20 admission)






23


Raipur Institute of Medical Sciences, Raipur


 Debarred


 Debarred


      2017-18, 2018-19

(Can apply fresh application for 2019-20 admission)






24


Shri Shankaracharya Institute of Medical Sciences, Bhilai, Chattisgarh


  Debarred


  Debarred


     2017-18, 2018-19

(Can apply fresh application for 2019-20 admission)






25


Sridev Sumban Subharti Medical College and Hospital, Dehradun




 Debarred


 Debarred


     2017-18, 2018-19

(Can apply fresh application for 2019-20 admission)