................................ Advertisement ................................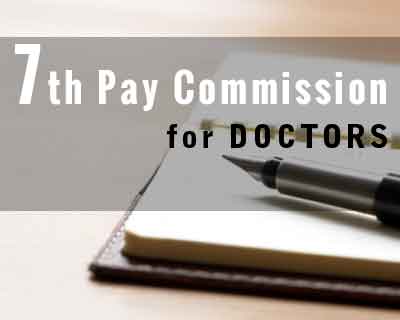 New Delhi: Leading Medical Associations have joined hands for opposing the recommendations of the 7th pay commission that has fixed a reduced Non Practicing Allowance and also delinked it from the basic pay for calculations of HRA and further pay of the medical practitioners working with the government.
The Joint action council of service doctors' organization (JACSDO) along with Delhi medical Association (DMA) recently conducted the All india service Doctors Conclave and GBM at the Auditorium of PGIMER, Dr. RML Hospital, New Delhi. The said meeting was in association with various government doctors organisation including FORDA, DVA, AIFGDA, and was supported by DMA and IMA. Service Doctors of organisations across the country under the banner of JACSDO, 20 State Health Services of India under AIFGDA, all resident doctors of FORDA and Dental and Veterinary Doctors along with IMA and DMA represented in large numbers.
The various organisations were seen joining hands and uniting their efforts to put forward the demands of government service doctors before the government. The doctors were seen unanimously giving an ultimatum  to the government, to engage in dialogue to resolution of problem doctors would have to resort to country wide strikes including pen down, work to rule and series of hunger strikes.
Some of the issues put forward by the organisations that the resolution reached thereafter include
NPA (Non Practising Allowance) is the established fundamental rights of only doctors as per govt. of India monograph. It is de-lure and de-facto element of the basic pay. The GBM has rejected the 7 CPC allowance committee notification especially w.r.t  NPA in toto. Doctors have demanded NPA should be implemented as per Javed Chaudhary committee and also rechristened as Non Practising Pay without any ceiling. Revised NPA should be implemented w.e.f. 01.01.2016 instead of 01.07.2017. The ceiling should be removed or be it a token ceiling with it being declared Tax Free.
Doctors demanded creation of the Indian Medical Service immediately and in that process all present incumbents should be given, pay, perk, promotion and protocol at par with the three All India Services. And also the cadre posts' structural ratios and threshold movement should be at par with the AIS.
Stop adhocism and contractual appointment in the cadre. Regularize all the ad-hoc appointee through UPSC as in 1989 on ex-cadre created posts.
Meghna A Singhania is the founder and Editor-in-Chief at Medical Dialogues. An Economics graduate from Delhi University and a post graduate from London School of Economics and Political Science, her key research interest lies in health economics, and policy making in health and medical sector in the country.
She can be contacted at meghna@medicaldialogues.in.
Contact no. 011-43720751
................................ Advertisement ................................
................................ Advertisement ................................
0 comment(s) on 7th CPC recommendations sound Death knell for Govt Health Institutions- Doctors