9 Hospitals de-empanelled from MJPJAY, 11 suspended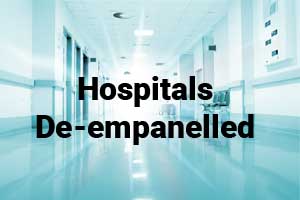 Kolhapur: The state government de-empanelled 9 hospitals from the state's health insurance scheme, Mahatma Jyotiba Phule Jan Arogya Yojana (MJPJAY) which was launched in 2012 for the poor patients after the raids carried out by a state-level monitoring team in the private hospitals at Kolhapur and Sangli.
The health department officials associated with the schemes informed about the suspension of 11 hospitals, barred from undertaking any surgical procedure under the scheme, notably suspension is the first step before hospitals are removed from the panel of the scheme.
The official requesting anonymity explained to TOI, "Once suspended, the hospital cannot admit new patients or beneficiaries under the scheme. In the case of de-empanelment, the hospital will be permanently debarred from offering the scheme. We have found that the rules of the agreement were not followed, treatment charges were taken from patients, while in some instances, false cases were made to claim reimbursement," he stated.
The information said that the patients who were already admitted to de-empanelled hospitals under MJPJAY were shifted to other private hospital empanelled under the scheme. There were 33 private hospitals and one government-run hospital under the scheme out of which only 18 are left.
They claimed that the scrutiny of other hospitals was under process, and if they don't abide by the rules laid down by the department, perhaps, they too will face de-empanelment.
A district coordinator of MJPJAY, requesting anonymity, informed that they have decided to sack few arogya mitra coordinators at the hospital level who assisted poor patients in availing the free secondary and tertiary care in the private hospitals under MJPJAY .
"The arogya mitra is supposed to help poor patients get the benefit of the scheme and ensure that they are not charged by the hospital. We are going to fire some more among them," he stated.