AIIMS doctors delegation meets Naidu overland sale to NBCC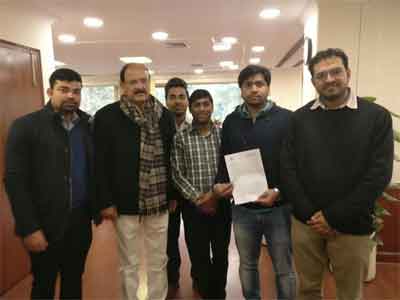 New Delhi: A delegation of AIIMS resident doctors' association (RDA) and students' union today met Urban Development Minister M Venkaiah Naidu and urged him to reconsider the government's decision to sell 10 per cent of institution land to NBCC citing land crunch.
During the meeting, the delegation, which also comprised members of Society of Young Scientists (SYS), raised the issue of unavailability of hostel accommodation for the resident doctors.


"Many of the resident doctors are not joining AIIMS because of non-availability of hostels. Please provide hostel accommodation to all residents on priority because the duty hours of resident doctors are not defined or limited and it would be better if they can be accommodated near the hospital.

"We are concerned about the selling of 10 per cent of AIIMS land for commercial purposes as it will not solve the issue of accommodation completely but eliminate the possibility of accommodation near hospital for future resident doctors," they said in a letter to Naidu.

National Buildings Construction Corporation (NBCC) Ltd is a government of enterprise under the Ministry of Urban Development headed by Naidu.

They further stated that AIIMS does not have an advanced Central Instrumentation Facility (CIF), which is the back-bone to conduct the advanced basic as well as applied medical research in the various areas of medical sciences.

"When strength of UG (undergraduate) MBBS was increased from 50 to 77, a lot of fund was given to AIIMS but the number of rooms did not increase proportionately," they claimed in the letter.

They said, in addition to the shortage of rooms is the "collapsing" of roofs and walls of the hostel buildings which has occurred five times in past five months.

"Such sudden collapses can be life threatening. We have heard about the plan to increase UG-MBBS seats to 100. We appreciate the sincerity and commitment of Union government to health sector in the country.

"However, does AIIMS, Delhi have enough facilities for 100 students? And as we have already pointed out existing hostel facilities are not even sufficient to accommodate 77 students, so how is AIIMS executive set up going to accommodate 100 students?" the letter said.

The delgation also urged Naidu to look into the issue of AIIMS administration issuing notices to some resident doctors, asking them why their services should not be terminated for participating in a protest which almost disrupted an MoU signing event attended by two Union Ministers on January 17.

"Instead of listening to our demands, AIIMS administration is taking strict action against us by giving termination threats. Kindly look into the matter seriously and also consider our demands on top priority as termination threats to the concerned doctors is not a solution for our problems," they said.

The move by the government to sell 10 per cent of the institutional land for commercial use to National Buildings Construction Corporation Limited (NBCC) for building over 3,000 flats for AIIMS staff in Ansari Nagar, West Campus was also opposed by FAIIMS (faculty association of AIIMS) earlier.