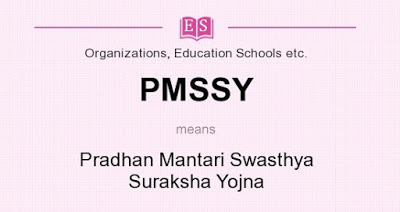 The AIIMS like Institutions at Bhopal, Bhubaneswar, Jodhpur, Patna, Raipur and Rishikesh, in the first phase of PradhanMantriSwasthyaSurakshaYojana(PMSSY), are functional. AIIMS at Rae Bareli, under the Phase-II of PMSSY, is under construction.
Proposals have been received from 13 states for setting up of new AIIMS like institutions and colleges. Land/site details furnished by the State Governments are given below:-
Land/site details furnished by the State Government
S.No.
State's Name
Location as per requirement

 

(i)
Andhra Pradesh
Govt. of Andhra Pradesh identified single location at MangalgiriMandal in Guntur District for setting of up AIIMS in Andhra Pradesh.
(ii)
Arunachal Pradesh
Suggested only single location without proper details.

204 acres Located around 30 km (approx.) from Itanagar via NH 52 A (Hollongi-Itanagar road) under Tubung Village of Balijan Circle, Papum Pare District, Arunachal Pradesh.

(iii)
Assam
Suggested three locations-

(a) DimoriaMouza in Kamrup (Metro) district.

(b) Kamalpur revenue circle in Kamrup district.

(c) ShahariMouza of Raha in Nagaon district

Further, State Govt has identified another site at North Guwahati.

(iv)
Goa

State Government has identified only single location which is situated in Dhargar village of PernemTaluka
(v)
Gujarat
State Government has identified four suitable sites in two district of the State namely Rajkot and Vadodara:

(a)Village-Chokari and Village Pavda, TalukaPadra, District, Vadodara;

(b)Village- Khirasara (Ranmalji),  Tehsil- Lodhika,       District- Rajkot

(c)Village-Khandheri, Tehsil- Padadhari, District Rajkot ;

(d) Village-Para Pipaliya, Tehsil-Rajkot, District Rajkot

(vi)
Himachal Pradesh
Kothipura in BilaspurDistt
(vii)
Jharkhand
State Govt. has identified location for new AIIMS at Devipur in Deoghar
(viii)
Karnataka
State Government has identified three locations in the state –

(a)Harohalli in Ramanagar District near Bangalore.

(b)Itagatti in Dharwad District.

(c)District Hospital Campus, Bijapur (Canter Distt. Head Quarters)

(ix)
Kerala
State Government has identified following four locations:

(a)    Thiruvananthapuram District-KattakadaTaluk, Kallikadu Village, Block 31, Resurvey 66

(b) Kottayam District-Arpookkara, Athirampuzha and        Peraicakadu villages

(c) Ernakulam District- Block No.5, 717/5,  Block No.6,  321/1

(d) Kozhikode District- Kinalur and Kanthalad villages in PanangadGramaPanchayath, ThamarasseryTaluk.

(x)
Maharashtra
Govt. of Maharashtra identified location at Nagpur in Nagpur District for setting of up AIIMS in Maharashtra.
(xi)
Tamil Nadu
State has identified locations at:

(a) Chengalpattu in Kancheepuram District

(b) Pudukkottaitowm in  Pudukkottai  District

(c) Sengipatti in Thanjavur District

(d) Perundurai in Erode District

(e) Thoppur in Madurai District

(xii)
Telangana
State Govt. has identified location for new AIIMS at Bibinagar in Telenagana
(xiii)
West Bengal
Govt. of West Bengal identified location at Kalyani in Nadia District for setting of up AIIMS in West Bengal.
Also, the Finance Minister in his Budget Speech for the year 2014-15, announced for setting up four AIIMS, one each in Andhra Pradesh, Vidarbha Region (Maharshtra), West Bengal and Purvanchal in Uttar Pradesh. In the Budget Speech for the year 2015-16, the FM has proposed to set up AllMS in Jammu and Kashmir, Punjab, Tamil Nadu, Himachal Pradesh and Assam. Of these, the Cabinet on October 7th, 2015 has approved the setting up of AIIMS-like institute in Andhra Pradesh, West Bengal and Maharashtra. The Ministry has also finalized the site for the setting up of AIIMS-like institute in Punjab at Bathinda.The timeline for setting up of such tertiary level health care facilities would depend upon the receipt of due approvals.
0 comment(s) on AIIMS Like Institutions coming up in the Country