AIIMS Raipur Website Hacked by Pakistani Hacker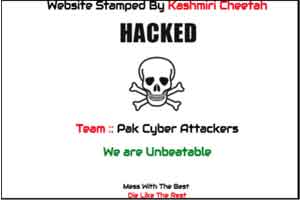 A Pakistani Hacker, Amir Muzaffar, who goes by the online virtual name of "Kashmiri Cheetah", on Saturday hacked the official website of AIIMS Raipur, 
www.aiimsraipur.nic.in. 
Throughout Saturday the homepage showed the message "Website stamped by Kashmiri Cheeta, Team: Pak Cyber Attackers. We are unbeatable. Mess with the Best, Die like the Rest."
The hacker confirming the hack, also displayed the same on his Facebook page.
The hacker further confirming about the hack, spoke to TOI saying all government sites were vulnerable to such hacks. "All government sites are on our target and we search sites with '.nic or .gov.in' keywords, and once we find a security lapse, you know what happens. Administrators of government websites are sloppy and rely blindly on white hat hackers whose job is to simply alert them about where the bugs are. They should not forget that there are black hat hackers too who also know where the bugs are and how to spread them to shut the sites down," Muzaffar told the 
Times of India
.
AIIMS authorities came to know about the hack on Saturday evening, and fixed the bug by Sunday. However, the hacker confirmed that it was still at risk. He also informed TOI he does this work to alert governments that they are vulnerable to cyber hack, further stating that  if Pak hackers wanted, they could destroy important files, but that was not in their ethics as of now. Although he doesn't do it for fun, he said, "it's for fake fame and a fake Cyber name, otherwise I love India."
Last year, the group had attacked 24 government and academic institutes' websites. Indian hackers in return had hacked around 250 Pakistani websites. The attack was meant to ridicule Prime Minister Narendra Modi's Digital India week, according to the TOI.