AIIMS sells part land to NBCC, doctors oppose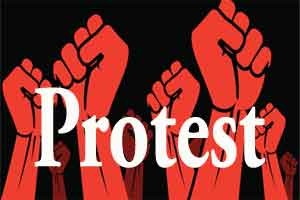 New Delhi:  An MoU signing event between AIIMS and NBCC for construction of over 3,000 flats saw protests from a union of resident doctors who were opposing the government's move to sell 10 per cent of the land for commercial use at one of the institute's premises.
Angry protesters tried to barge into an auditorium, where the MoU was being signed in the presence of Union Health Minister J P Nadda and Union Urban Development Minister M Venkaiah Naidu, forcing the AIIMS administrtation to prevent their entry.
The Resident Doctors' Association members also claimed that they had a scuffle with the security guards when they tried to enter the auditorium.
"We just wanted to send our three representatives to give a memorandum to the ministers before the MoU was signed, but the administration did not allow us. We were protesting peacefully but the security guards tried to remove us from the lobby which led to a minor scuffle between the resident doctors and security guards," AIIMS RDA president Dr Vijay Gurjar said.
"We oppose the decision of selling 10 per cent of the land alloted to the institution for commercial purposes as this is totally against the Constitution of AIIMS and is being imposed without proper consensus among the resident doctors, faculty members and research students," he claimed.
Later, the authorities claimed to have filed a complaint with the police. Sources said disciplinary action might be initiated against the protesting doctors.
RDA, meanwhile, has called its general body meeting tomorrow and has asked the AIIMS Students Union and the Society of Young Scientists to attend it.
RDA has also written to the Prime Minister over the issue.
As per the Memorandum of Understanding (MoU), NBCC will build 3928 apartments in Ansari Nagar, West Campus and at Ayur Vigyan Nagar campus for the staff of the country's premier institute on over 65 acres of land, at an estimated cost of Rs 4,441 crore.
In turn, about 2.9 acres out of 29 acres of institutional land would be given to NBCC for commercial use.
NBCC would be charging 10 per cent of the final project cost as project management consultancy (PMC) fee and 1 per cent for the marketing expenses on total fund realisation from the sale/lease of built up area.
Read Also: 
AIIMS signs three MoUs to expand infrastructure, other facilities