All Medical College Inspections would be Videographed: MCI Board of Governors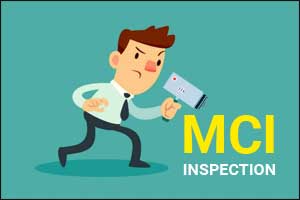 New Delhi: Hitting the nail right on the head, the newly appointed Medical Council of India Board of Governors, is all set to install transparency in the process of MCI inspection of Medical Colleges, by ensuring videography of the entire process.
Medical Dialogues team had earlier brought the issue to light, stating that since all the alleged corruption at the council finds its roots in the approval and recognition of private medical colleges and their degrees, any move towards a  "
Swacch Medical Council
" will only come, if the BoG takes decisions to instill transparency and standardisation in the process of inspection of Medical Colleges. This requires that each and every MCI inspection of a medical college be video-recorded, compiled and promptly put in public domain so that medical aspirants exactly know what sort of medical college they are seeking admission into.
Read Also: 5 Critical Decisions before the new MCI Board of Governors
Addressing the very big elephant in the room, the recent meeting of  MCI Board of Governors saw the committee taking a call that all the said inspections would be videogaphed and the inspectors would be chosen randomly, through software to avoid any chances of corruption.
"We had been getting feedback that these assessments were completely arbitrary and did not give the college authorities a chance to explain--even minor issues were blown up and these were later used to extort from the college at the time of renewal," the official said. "The complaints from new private colleges were particularly glaring," a senior official in the medical education section of the Union Ministry of Health and Family Welfare informed
Indian Express
.
The official added that the decision of cleanup has been taken in the last week's meeting.
"The matter was discussed in detail in the BOG meeting last week and it has been decided that a fair and clean approach for inspection (of medical college) would be adopted..It was also decided that the process of inspection will be recorded through videography so that there is least chance of any underhand dealing or extortion, and in case of any discrepancy it can be sorted out later," the official informed the daily.
Medical Dialogues had earlier reported about the Union Health Ministry creating a group of expert faculty that is going to assist the MCI BOG in the assessment of Medical Colleges for fresh registration as well as renewal of licences.
The Ministry has also put forward a system of secret roster to determine the details of the MCI inspections in order to bring in more transparency.
"The roster will be a secret till the last minute, so that no one is aware who will sit for which college's assessment. This way, medical colleges will not be able to directly approach committee members, and chances of corrupt practices will go down sharply," an official had confirmed.
Read Also: Expert Committee of Medical Faculty to assist MCI Board of Governors on Medical College Inspections, Renewals