ALL Medical colleges have to have PG courses from 2020-21: MCI Amendment soon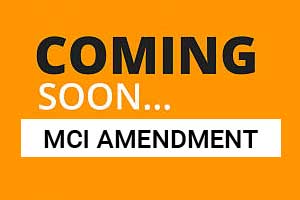 The ministry has approved the amendments and the new regulations would
be notified soon.
New Delhi: All existing medical colleges will have to start PG courses from the academic year 2020-21, according to amendments made to the Post-Graduate Medical Education Regulations, 2000, of the Medical Council of India (MCI).
The regulations will also apply to new medical colleges, besides dealing with existing private and government colleges, and they will have to start PG courses within three years of receiving recognition for running undergraduate courses.
Institutions failing to do so will lose their recognition, a senior Health Ministry official said. The ministry has approved the amendments and the new regulations would be notified soon.
"The move is aimed at addressing the scarcity of doctors in the country. Once the amendments get implemented, around 10,000 post-graduate seats would be created over the next four years," the official told PTI .
The official said medical colleges will have to apply for new seats for starting P-G courses. The MCI will conduct an inspection before giving its approval for increasing seats for 2019-20 academic session.
Colleges will have to put in applications with the Medical Council for offering postgraduate programs, following council inspections would happen.The colleges will need to pass this inspection within three attempts to continue to stay recognized institutions.
"This is to ensure colleges start PG courses. People have a knack for circumventing rules so we have ensured they have no option but to start PG courses," a health ministry official informed Hindustan Times."This will also give us more PG seats but colleges will have to apply for new seats. There will be proper inspection and the seats will increase for 2019-20 academic session," the health ministry official added.
Presently the country has 38,000 postgraduate seats to offer the 68,000 MBBS graduates who come out of medical college every year. As per the Health Ministry, t it costs Rs 4 crores to create a  new seat in a new medical college, just  Rs 1.2 crore to do the same in an existing institute.