Allahabad: Hospital sealed after Union Minister's Kin dies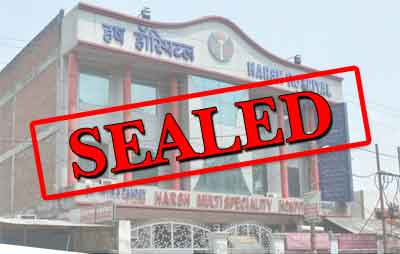 Allahabad: A private hospital, was on the receiving end of the district Chief Medical Officer's ( CMO) wrath, after a patient, a relative of the MOS Health, Shri Anupriya Patel, died due to "alleged negligence" of the doctors at the hospital
Hindustan Times
reports that the hospital was sealed on the orders of the CMO, Allahabad, who initiated the stringent action against Harsh Hospital, after a complaint was filed by the National President of Apna Dal party, Ashish Singh.
The case which led to the action, was that of patient Garima Singh, niece of Anupriya Patel, who was taken to Harsh Hospital when she suddenly fell ill on June 2. The doctors  referred her to the Swaroop Rani Nehru Hospital (SRNH) of the MLN medical college, where she remained admitted for the night under the supervision of principal of the Medical college, Dr SP Singh. Her condition continued to deteriorate and she was then referred to Sanjay Gandhi Post-Graduate Institute of Medical Sciences (SGPGIMS), Lucknow. Unfortunately, despite efforts, she died on June 5, 2017.
The party president, soon filed a complaint against the hospital following which all services of the hospital, except the OPD of neurosurgeon Dr Mukul Pandey have been suspended.A probe committee has been set up to look into the matter.
Doctor's Reaction
Showing Strong opposition to the "harsh and arbitrary action" by the CMO, Allahabad Medical Association was seen convening an emergency meeting of doctors to protest action against the hospital. Doctors also protested outside the CMO office, threatening to paralyse medical services adds HT.
Medical practitioners severely criticized the CMO, calling the action arbitrary, arising only because the case was that of a relative of a minister
"The patient was brought to the hospital in a critical condition and needed ventilator support. Since ventilator was not available at the hospital, the patient was referred to SRN Hospital. There was no negligence on the part of doctors," AMA secretary Dr Tribhuwan Singh said.