Amethi lacks medical facilities: Smriti Irani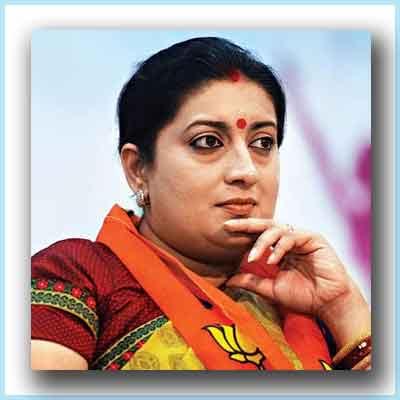 Lucknow: Union Textile Minister Smriti Irani said that Amethi was facing an acute shortage of CHCs and PHCs and asked Uttar Pradesh Health Minister Sidharthnath Singh to initiate projects to improve health services in Amethi.
She met Mr Singh in the state capital here, on her return from Amethi and apprised him of the problems the region was facing.
"The problem with Amethi is that local MP of that constituency has no time for people of that area. The political family, which is winning elections from there for many years, has no vision about Amethi," she told reporters after meeting Mr Singh.
"The health service in the region is in tatters. There are not sufficient numbers of CHCs and PHCs in that region. People have to travel a long distance to get treatment for minor diseases or they have to rely on quacks," he said."I have apprised Health Ministers about the problems Amethi is facing and hope that situation will improve in the near future," she said.
Ms Irani had contested the last Lok Sabha election from Amethi and since then, has been nurturing this constituency.
Earlier in the day, she interacted with the locals. Addressing people during the bakery training programme on the campus of Dr Bhimrao Ambedkar University, the Union Minister said Congress Vice-President Rahul Gandhi has no time for the people of his constituency.
Attacking Mr Gandhi, she said the Congress Yuvraj is an "insult" to democracy, because he does not have any time for his constituency and people.
Addressing the gathering, UP Minister of State for Vocational Education and Skill Development Suresh Pasi said that very soon, four Industrial Training Institutes (ITIs) would come up in Amethi, which have been approved by the government.
"The buildings of ITIs will be ready by June this year," he claimed.Referring to Mr Pasi, Ms Irani tweeted, "A moment of pride for me to witness a samanya karyakarta of Amethi Suresh Pasi giving his first public address as Minister of State, Go UP."Earlier in the day, the Union Minister held meetings with the officials of Amethi district administration to ensure that schemes, including those related to education, water, health and irrigation are implemented in a time-bound manner.
She also tweeted that she facilitated interaction of citizens with the DM and the SP of Amethi and both assured speedy redressal of their grievances.