Another 20 Medical Colleges get Renewal Permission for 2600 MBBS SEATS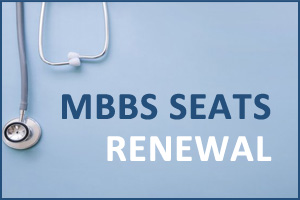 New Delhi: Through a recent notification, Ministry of Health and Family Welfare has announced  its decision to issue letter of permission for the renewal of 2600 MBBS seats in 20 different medical colleges. The notices specify renewal or permission for admission with increased intake of MBBS batch for 2018-19 at the respective medical colleges.
The notice follows another similar notice that was issued by the ministry permitting, 4252 MBBS seats in 58 medical colleges.
Read Also: 
Health Ministry nod to renewal of 4252 MBBS seats in 58 medical colleges, Details


The permission is valid for one year and for admitting only one batch of MBBS students against increased intake during the academic session 2018-19. The next batch of students in MBBS course against increased intake will be admitted in the college only after permission of Central Government for renewal/recognition.

With the notices the Ministry has clarified that all the Government Medical Colleges (except those located in J&K State) shall contribute 15% of MBBS seats for which the renewal permission is granted for all India quota


| | | | |
| --- | --- | --- | --- |
| S.No | College Name | Location | No of Seats |
| 1 | Tejpur Medical College & Hospital | Bihaguri, Assam | 100 Seats |
| 2 | Sri Padmavati Medical College for Women | Tirupati, Andhra Pradesh | 150 Seats |
| 3 | A C Subba Reddy Govt. Medical College | Nellore, Andhra Pradesh | 150 Seats |
| 4 | North Delhi Municipal Corporation Medical College, Hindu Rao Hospital | Malka Ganj, Delhi | 50 Seats |
| 5 | ESIC Medical College, NH-3 NIT, | Faridabad, Haryana | 100 Seats |
| 6 | Shri Lal Bahadur Govt. Medical College | Ner Chowk, Himachal Pradesh | 100 Seats |
| 7 | Dr. Y.S Parmar Govt. Medical College | Sirmaur, Himachal Pradesh | 100 Seats |
| 8 | Pandit Jawahar Lal Nehru Govt. Medical College | Chamba, Himachal Pradesh | 100 Seats |
| 9 | Sher-I-Kashmir Institute of Medical Sciences | Srinagar, Jammu and Kashm | 50-100 Seats (Renewal with increase) |
| 10 | Govt. Medical College, Bakshi Nagar | Jammu City, Jammu and Kashmir | 100-150 Seats (Renewal with increase) |
| 11 | Govt. Medical College, Bemina | Srinagar, Jammu and Kashmir | 100-150 Seats (Renewal with increase) |
| 12 | SCB Medical College, Mangalabag | Cuttack, Odisha | 150-250 Seats (Renewal with increase) |
| 13 | Mahatma Gandhi Medical College & Research Institute | Pillaiyarkuppam, Puducherry | 150-250 Seats (Renewal with increase) |
| 14 | MKCG Medical College | Brahmapur, Odisha | 150-250 Seats (Renewal with increase) |
| 15 | Saheed Laxman Nayak Medical College | Koraput, Odisha | 100 Seats |
| 16 | Pt. Raghunath Murmu Medical College & Hospital | Mayurbhanj, Odisha | 100 Seats |
| 17 | Government Medical College, Pariapally | Kollam, Kerala | 100 Seats |
| 18 | Late Shri Balirma Kashyap Memorial Govt. Medical College | Jagdalpur, Chhattisgarh | 50-100 Seats (Renewal with increase) |
| 19 | ESIC Medical College | Sanath Nagar, Hyderabad | 100 Seats |
| 20 | RUHS College of Medical Sciences | Jaipur, Rajasthan | 100 Seats |