APPLY NOW: SGPGI releases 40 vacancies for SR, JR Posts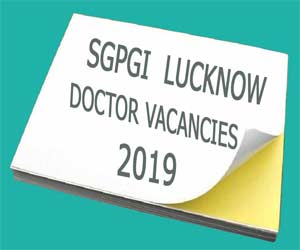 Lucknow: The Sanjay Gandhi Postgraduate Institute of Medical Sciences (SGPGIMS), Lucknow has released 40 vacancies for Senior Resident and Junior Resident posts on Adhoc Basis. The selection will be done based on Walk-in-interview.
SGPGIMS is Super-Speciality teaching and training Medical Institution, situated to the Southeast of Lucknow city on Lucknow-Raebareli Road. The institute has more than 190 faculty members in 29 academic departments.
Date of Walk-in-Interview: 23rd October 2019.
For more details about Qualification, and Recruitment and much more, click on the given link: 
https://medicaljob.in/jobs.php?post_type=&job_tags=SGPGI&location=&job_sector=all
Vacancy Details:
Total no. of vacancies- 40
Senior Resident- 29 
Age: 37 Years as to be reckoned on the date of Interview.
Pay Allowance: Level-11 of pay matrix with entry pay of RS, 67, 700/- per month.
The Vacancies are in the Department of - Trauma Surgery, Physical Medicine & Rehabilitation, Neurosurgery, and Orthopedics.
Junior Resident - 11
Age: 30 Years as to be reckoned on the date of Interview.
Pay Allowance: Level 10 of the pay matrix with entry pay of Rs. 56,100/ per month. Allowances will be admissible as per Institute rules.
The Vacancies are released for specialities of Apex Trauma Centre.
Walk-in-Interview Venue: Apex Trauma Centre, Vrindavan Yojna Raebareli Road Lucknow. 226012
Timing: : 10:30 A.M. at
General Information:
1. Subject to a vacancy available, a maximum of 2 terms of 89 days is permissible to a selected person. The Ad vacancy is to be advertised for a regular selection in the next semi December 2019-January, 2020.
2. No TA/DA will be given for attending the interview.
3. The candidates who have already completed three years of Senior Residency and one year of Junior Residency may not be considered for appointment for the post of Senior/Junior Resident respectively.
4. Director reserves the absolute discretion to cancel the advertisement in part or whole without assigning any reason.
5. No. of posts mentioned (vide supra), may increase or decrease.
Read Also: Job Alert: ESIC Hospital Faridabad releases 51 Vacancies for SR, JR, Tutor posts