Covid Update: Do we really need a booster dose?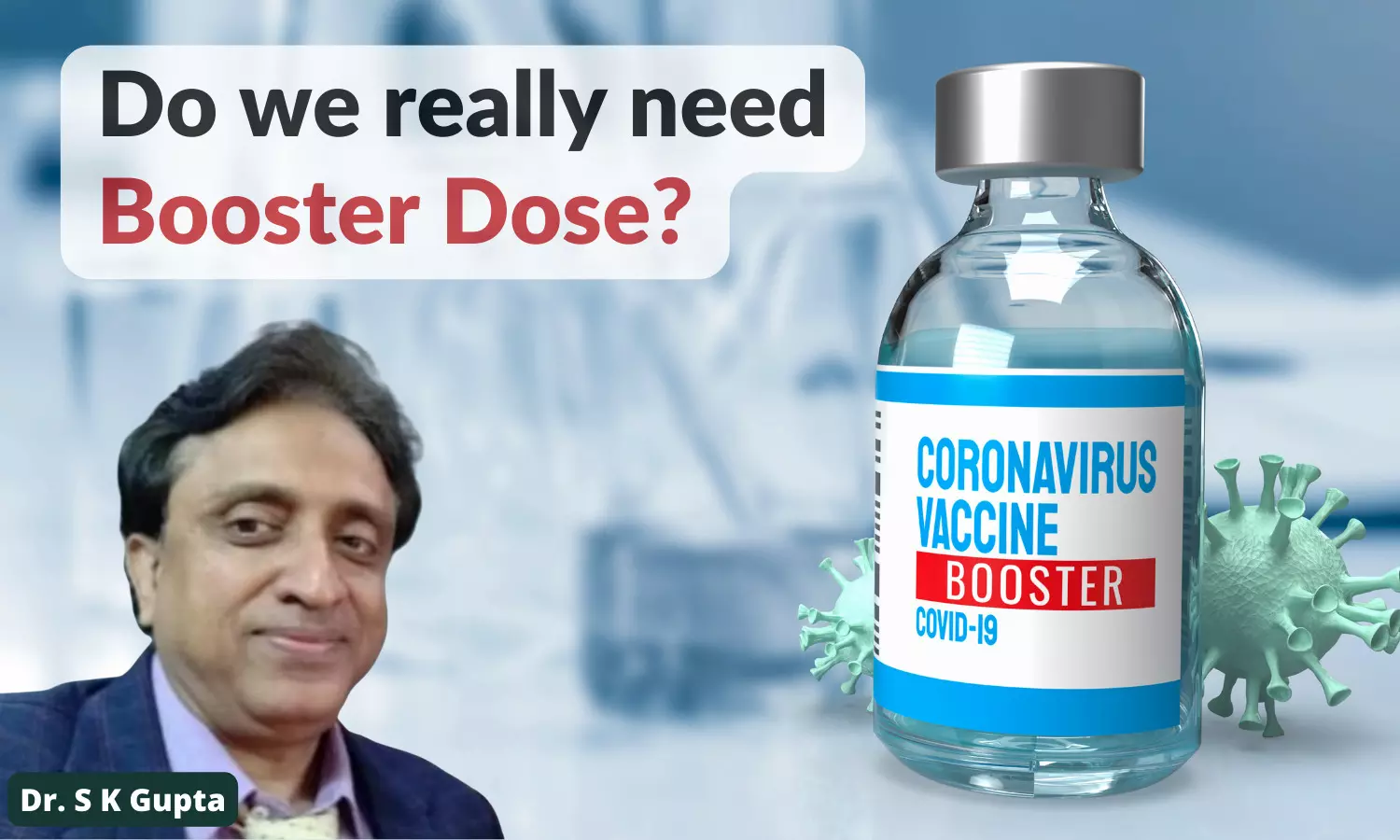 Covid Update
The pandemic is ending- did we really need boosters?
The vaccines have done an excellent job of preventing hospitalizations and death. The primary vaccination series was defined as two doses 28 days apart. And it seemed to work excellently.
But then came some studies from Isreal and other parts of the world advocating the need for further doses. These studies further demonstrated that the neutralizing antibody titers drop significantly within four to six months of the primary series of Vaccination.
India was not convinced. But to quell the increasing demand for the booster dose from Health Care Professionals and Frontline workers, Govt of India allowed the third dose but preferred to call it the Precautionary Dose. *The action was primarily an abundance of caution enacted to avoid workforce loss and backfire in case the preliminary results of trials prompting booster dose turned true.
After the third shot — or, say, the Booster — antibodies rise quickly. But they begin to decline soon, about a month later. As a result, antibody protection against infection drops to about 50% within three months.
So the question arises: Does one need a booster dose again to beef up protection against changing viruses?
The coronavirus has been evolving, and Omicron infected rather reinfected a good number, even those who had been infected, vaccinated and booster vaccinated and reinfected. Fortunately, infections did not lead to severe disease or higher mortality.
Seeing this chart, it becomes clear that the mortality has been consistently in line with the number of cases but for one or two bumps. During the third wave, infections by Omicron and its subvariants did not lead to excess admissions in India. Life continued to return to normal despite dropping masks and increasing socialization.
And the scientists gave credit to the protection offered by the primary series of Vaccination.
India's Booster dose story
Were Indian Scientists not convinced by the idea of a booster dose and hence preferred to call it a Precautionary dose?
Initially, the third Booster was offered after nine months of the second dose.
◆Precautionary dose was made available from January 10, 2022, only after 9 months (39 weeks) from the 2nd dose to Healthcare, and frontline workers were at the forefront of the fight against COVID-19. The precautionary dose was also provided to seniors over 60 with co-morbidities.
◆ Three months later, on 10th April 2022, a Precaution dose of COVID vaccines was made available to 18+ population groups at private vaccination centres.
◆However, by July 2022, less than 1 percent of the target population of 77 crores in the 18-59 age group have been administered the precaution dose.
◆ India easing norms for Booster Dose
Studies at ICMR (Indian Council of Medical Research) and other international research institutions suggested that antibody levels wane around six months after the primary Vaccination with both doses, and giving a booster increases the immune response.
◆By that time, Govt also had comfortable logistics regarding the availability of doses of different vaccines.
◆Govt also realized that nearly 594 million adults in India were already "late" for their so-called precaution shots.
◆So, on July 6, 2022, the Union health ministry reduced the duration between the second and the precautionary third dose of the COVID-19 vaccine from nine months to six months.
◆◆But the booster vaccinations demand did not pick up.
◆ So, the Union government announced the free administration of COVID-19 vaccine booster shots for all adults aged 18-59, starting 15 July 22 for 75 days, i.e. up to 30 September 2022.
◆◆ But did the free offer improve booster Vaccination?
No. Despite this free vaccination drive, many people did not get a booster dose. For example, as of August 30, only about 12% of the people in the age group of 18-59 have had a booster dose. At the same time, 35% of people above 60, including healthcare and frontline workers, have had a booster dose.
But despite poor uptake of booster dose by population, India sailed through the evolving Omicron wave variants like BA.2, BA.2.1, and BA.2.75 relatively smoothly without much rise in mortality.
◆ Why did people not take Booster?

Because the fear of severe disease was missing, there was no talk of disease in society, person to person motivation had gone. Govt too was mild in advertising. The media was keeping busy with other important news. Covid fatigue had taken over.
Did we need boosters?
On 14th September 22, WHO announced the End in Sight for Covid-19.
"The Virus, which emerged in China in late 2019, has killed nearly 6.5 million people and infected 606 million, roiling global economies and overwhelming healthcare systems.
The rollout of vaccines and therapies has helped to stem deaths and hospitalizations, and the Omicron variant, which emerged late last year, causes less severe disease. Deaths from COVID-19 last week were the lowest since March 2020."
Routines are returning to normal. Life is getting busy reviving the lost wages.
What does that mean? Are Boosters not necessary?
The phenomenon of Antigenic Sin seems to work for Sars-CoV-2, where the first encounter with the original antigen sensitizes the T cells of the body to respond to further Virus variants. Vaccines have been the game changer. If we compare the present Covid pandemic to the 1918 influenza pandemic when there were no vaccines, we find that vaccines prevented nearly 1.5 Crore deaths. Nearly 4 times the number of people could have died without vaccines.
Was the mortality lower in countries where boosters doses were used?
At the least, the data does not show any such trends when compared to countries with low uptake of booster doses. But there can be ethnic differences along with other factors.
The figures show India having used a few boosters doses, but the mortality in India was still lower than in countries with higher uptake of boosters.
Was Booster Shot a pharma-driven idea?
Not completely. The rising number of cases of Omicron, higher death rates in the elderly, and immunocompromised were a cause of concern. Nevertheless, the Pharma industry infused money and energy to produce the latest vaccines. Their profits should be seen as a by-product of their research and hard work.
The pandemic is ending, and optimism is high, but the Virus is here to stay. And seeing its potential to mutate and evolve into nasty variants anytime, continued surveillance is necessary. Adults have been largely immunized. Primary Vaccination of adolescents who soon turn adults should be a priority that needs to be done in a programmed manner regularly.
Disclaimer: The views expressed in this article are of the author and not of the Medical Dialogues. The Editorial/Content team at Medical Dialogues has not contributed to the writing/editing/packaging of this article. Dr. S K Gupta has an MBBS and MD degree from the Maulana Azad Medical College, University of Delhi, and has been a Consultant Physician at Max Hospital. In addition, he has been conferred upon Fellowship of Indian College of Physicians by the Association of Physicians of India. He was Nominated as 'Delhi Healthcare Ambassador' by Delhi Medical Association and was awarded 'Chikitsa Ratn' by Indian Medical Association. Dr. S K Gupta is also an author and has written the Book "Journey of Covid in India- A Doctor's Perspective."