Assam Partners with Tata to set up 19 Cancer- Care Centres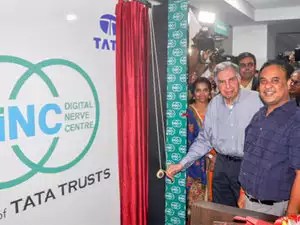 Guwahati: Assam government announced 19 cancer care centres, to be set up across the state in partnership with Tata Trusts at an investment of Rs 1,910 crore, will start functioning from mid-2020.
The government will lay the foundation stone of the proposed centres at a function on June 18 in presence of Assam Chief Minister Sarbananda Sonowal, BJP President Amit Shah and Tata Trusts Chairman Ratan Tata.
The Assam government and Tata Trusts have formed a non-profitable entity -- Assam Cancer Care Foundation (ACCF) -- with an equal partnership to implement the project and manage the centres, he added.
"Tata Trusts will give Rs 830 crore initially, while the Assam government will put in Rs 1,080 crore. So, the initial corpus of Rs 1,910 crore will go to ACCF, which will be a six-member trust," Sarma said.
The association is to set up 19 cancer hospitals or centres of "different categorisation" at as many places, the Health Minister said.
Assam government had signed a Memorandum of Understanding with Tata Trusts during the 'Advantage Assam - Global Investment Summit 2018' in February this year to operate 17 cancer care centres across 15 districts.
Sarma said the number of the centres has been revised and it will be 19 now.
As per the plan, the district hospitals at Darrang, Goalpara, Golaghat, Haflong and Sivasagar will have diagnosis and day-care centres without having surgery facilities, termed as L3.
Existing and proposed medical colleges at Barpeta, Jorhat, Silchar, Tezpur, Diphu, Dhubri, Kokrajhar, Lakhimpur, Nagaon, Tinsukia, Karimganj and Nalbari will have facilities for radiation, chemotherapy and surgery with 150 bedded hospitals, termed as L2.
Assam Medical College and Hospital will be the referral centre and will have a separate 200-250 hospital, termed as L1, Sarma said.
"Out of these proposed centres, we are having some problems regarding the land acquisition in Darrang, Golaghat, Sivasagar and Haflong. In rest of the places, the land has been given to ACCF under a 33-year lease agreement," he added.
Apart from these centres, the Assam government is constructing a 500-bedded cancer hospital under the Gauhati Medical College and Hospital, the Health minister informed.
"For developing the Guwahati hospital as apex centre for cancer treatment, we will invest Rs 200 crore, of which Rs 180 crore will be given by the Centre," he added.
Sarma said this hospital will be known as South East Asian Cancer Research Centre and it will carry out research on the disease in North East as well as neighbouring countries.
He informed that as per an estimate by the Indian Council of Medical Research in 2016, 31,825 cancer patients are detected every year in Assam.
"This is a conservative estimate as many do not come to diagnosis level. So, we believe the actual number will be 25 per cent more. Out of that, 70 per cent of people die.
"Our analysis is that if people get treatment on time, then 60 per cent of the deceased can be saved," Sarma said.