National Institute of Ayurveda invites applications for Certificate e-Course on Dietetics, Nutrition, Immunity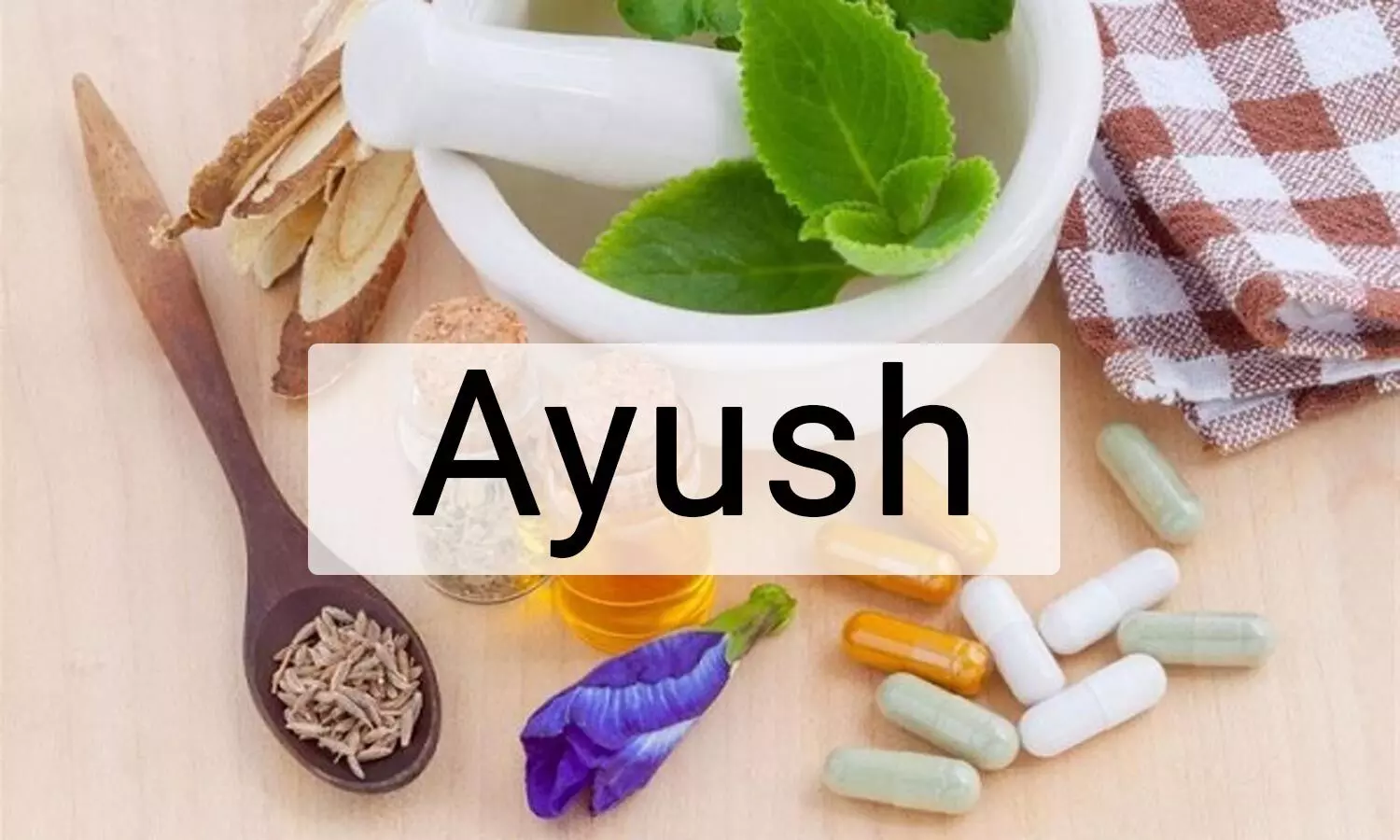 New Delhi: The National Institute of Ayurveda under the Ministry of AYUSH has invited applications from eligible candidates to apply for Certificate e-Course on "Dietetics, Nutrition & Immunity through Ayurveda"
The Certificate e-Course on "Dietetics, Nutrition & Immunity through Ayurveda" is a course designed to impart practical and academic knowledge of concepts of Dietetics, Nutrition & Immunity in Ayurveda. The diet provides nutrition and which, in turn, builds up the immunity of an individual. Ayurveda is an applied science which strongly postulates that adopting a dynamic, disciplined lifestyle will usher inadequate strength and defence in an individual to remain healthy. Ayurveda believes that both health and disease originate from the diet. It is the first line of defence against diseases as mentioned in Ayurveda, not the medicine.
In fact, "diet is the best medicine". Diet, if properly modified, not only provides nutrition but also protects from several ailments. It is a course designed for those people who are interested in gaining knowledge about the Ayurvedic concepts of diet, nutrition & immunity in their daily routine. "Kitchen is the first pharmacy". In Indian kitchen, many spices are used for cooking but, these spices are widely used in Ayurveda for management of many minor and common health issues. Similarly, many medicinal plants are available in our surroundings which can be used for managing common health problems. Knowledge of such uses will help us to reduce hospital visits and consequently give health and monetary benefits. It will also aware the public about the myths and facts related to food habits and junk foods. There are so many hazards of fast food and wrong cooking methods. These concepts of diet will provide health benefits against the lifestyle disorders of the present era like Diabetes mellitus, High blood pressure, Obesity etc. This course is for healthcare professionals who have primary theoretical knowledge of Diet, Nutrition and Immunity but looking forward to learning how to implement these principles in the daily life of their patients and themselves. The course comes with unparalleled experience-based expertise of NIA faculties.
Candidates who are interested in pursuing the course can view the important information pertaining to the same mentioned below as released on the official website of the AYUSH ministry.
National Institute of Ayurveda was established in 1976 by the Government of India as an apex Institute of Ayurveda in the country to develop high standards of teaching, training, clinical services and research in all aspects of Ayurveda with a scientific approach. NIA offers UG, PG and Doctoral courses in all branches of Ayurveda along with short term courses on various important areas of Ayurveda to both Indian and Foreign nationals. NIA plays a very important role in formulating standards, guidelines and policy-making of the AYUSH sector by its technical inputs.
Eligibility criteria- BAMS/BHMS/BUMS/MBBS/Any other equivalent degree of medicine.
IMPORTANT DATES
Certificate course starts on 20 April 2020
Course Fee Rs. 3000.00 (Till 05:00 p.m., 18 April 2020, Saturday)
ADDRESS FOR COMMUNICATION

"Certificate-Course on Dietetics, Nutrition & Immunity through Ayurveda"
C/o The Director,
National Institute of Ayurveda, Jorawar Singh Gate, Amer Road,
JAIPUR - 302002 (RAJASTHAN) INDIA
Advantage with NIA

The candidate gets to learn from the qualified, experienced and best in class faculties in the country in the most premier infrastructure in the country. Every candidate undergoing the course will be confident and trained a class apart from the rest. After successful completion of the course, the candidate will be awarded the e-certificate from NIA, an institute having the best reputation and acceptance at national and international platforms.
Course Scope
This course will help the candidates to learn about the dietary guidelines, diet, its nutritive value and effects on the body, purely in Ayurveda way. The candidate will become confident in assessing different types of food for its merits and demerits through Ayurvedic principles. The candidate will learn identification of different spices and herbs and their uses for the restoration of general health and immunity and in management of different life style disorders.
After completing the course, candidates will gain.
1. Knowledge of Ayurvedic principles of diet and nutrition to maintain health.
2. Practical application of Ayurveda to remove myths and establish facts about our everyday cuisine.
3. To be aware of junk foods and their harmful effects.
4. How to stay healthy is followed through dietary guidelines mentioned in Ayurveda.
5. Self and Family care regimens to be followed which comes from kitchen and surroundings.
6. Practically usable primary health care practices through Kitchen and surroundings.
7. Knowledge of Ayurvedic Diet in lifestyle disorders.
8. Immunity boosting measures by using common herbs and spices of Ayurveda.
Course Description
This course will cover an introduction to Ayurvedic dietary guidelines described in ancient classics. It will deal in various dietary regimens for the health benefits.
Participants will be made to learn the properties of various foods used in our daily routine. Particular attention will be given to discuss the harmful effects of junk food and their alternatives in Ayurveda for prevention of lifestyle disorders in the society.
It will also give an introduction to common Ayurveda herbs and Medicinal Plants found in Indian Kitchen and home surroundings. It will deal in daily care regimens for the health benefits i.e. Gastric issues, bruises, skincare etc.
Participants will be made to identify spices and herbs and knowledge will be given on its practical implications. Particular attention will be given to the unique Ayurveda principles and their application for primary healthcare of the individuals.
The candidates will get to know about the medicinal properties of various food articles and dishes. The candidate learns how to impart nutrition in various morbid conditions and enhance general immunity through diet.
Lesson

Title

Duration

Day 1

L1

Ahara (Diet) and Poshana (Nutrition) in Ayurveda

75 minutes

L2

Agni (Digestive Fire), Ahara Paka (Digestion& Metabolism), Ama (Intermediate metabolites) in Ayurveda

75 minutes

Day 2

L3

Ahara (Diet) according to Desha (Habitat),

Kala(Season) and Prakriti (Body Constitution)

75 minutes

L4

Importance of Ayurvedic Dietary guidelines

in the present era

75 minutes

Day 3

L5

Viruddha Ahara (Incompatible foods)

75 minutes

L6

Managing lifestyle Disorders through Aahar

75 minutes

Day 4

L7

Concept of Immunity in Ayurveda & its

relation with Diet

75 minutes

L8

Immunomodulation through Diet & lifestyle

75 minutes

Day 5

L9

Kitchen spices and their therapeutic uses

75 minutes

L10

Green herbs surroundings us and their therapeutic uses

75 minutes

Day 6

L11

Myths in society and facts in Ayurveda about Dietary substances

75 minutes

L12

Harmful effects of Junk Food &

Healthy alternatives in Ayurveda

75 minutes

900 minutes = 15 hours
Mode of Classes – Online Video Calling App
The medium of Instruction- English and Hindi
Seats- 30 Participants per Batch
Duration–Total 15 hours (2.5 hours per day)
Date-20-25April 2020(Monday to Saturday)
Time – 2:30 pm to 5.00 pm
Course material – Study material related to the course will be provided to the participants.
Selection Procedure: On First Come First Serve Basis.
Certificate: e - Certificates will be awarded to the qualified participants by the Institute.
General Rules and Regulations: As per the rules and regulations of NIA.
Course Fees: Interested candidates will have to deposit Course fee of Rs.3000.00 (Three thousand rupees only) up to 05:00 p.m., 18thApril 2020 by NEFT in favour of "Director, National Institute of Ayurveda" payable at Jaipur or other digital payment options as per account detail given below on or before the stipulated dates. Candidates are advised to make payment individually for each candidate and send the receipt on designated email. Group payment is not allowed.
Account Detail:
Name of Account: Director, National Institute of Ayurveda, Jaipur
Account no: 3124200215
Name of Bank and Branch: Central bank of India, NIA, Jaipur
IFSC Code: CBIN0283634
How to apply:
Candidates are required to apply in the prescribed format given herewith. The format should be neatly typed on A4 size paper on one side and should be signed by the Candidate at the specified space with a date.
The institute will not consider any other format or application performa. Duly filled application form along with the Proof of Payment of Fees (Screenshot / Scanned copy of the NEFT Receipt), scanned self-attested copies of all certificates, mark sheets, testimonials in support of age and educational qualifications in the prescribed format by Govt. of India must be sent by mail at dravyaguna.nia@gmail.com on or before 05:00 p.m., 18-05-2020 (Saturday).
Applications received after the Closing Date will not be accepted.
Invalid Applications:
Candidates are advised to read all instructions carefully before sending their applications otherwise their applications are likely to be rejected on one or more of the following reasons in terms of the notifications-
• Applications received after the closing date.
• Applications not in the prescribed format.
• Candidates not having the required qualifications.
• Applications without the prescribed Course Fee.
• Applications which are incomplete will be summarily rejected.
Admission Procedure: Selection of the candidates will be done as per First come first serve basis. The candidate has to deposit the Course fee along with fully filled application form. The application forms submitted with Course fee will be screened and the selected candidates will be intimated by phone /email to confirm his / her admission. If the course fee is not deposited with the application form, then the right to admission will be forfeited without any further notice. The Director, NIA reserves all right to reject any application form without assigning any reasons. If a candidate is not selected for the course due to any reason, then his/her Course fee in the form of NEFT/other digital payment options will be returned.
Contact:- Website: www.nia.nic.in
E-mail – dravyaguna.nia@gmail.com
Dr Amit Chaudhary- 9351527666
Dr Vinay Kumar Verma – 9458545132