Ayushman Bharat massively underfunded: Jairam Ramesh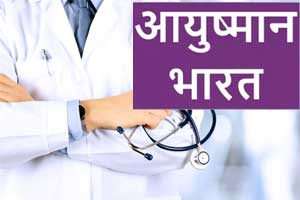 New Delhi: Lashing out at Narendra Modi government's flagship programme Ayushman Bharat, Congress on Saturday said the scheme is a life saver for not the people of the country, but a lifesaver for private insurance companies and private hospitals.

Addressing media persons at AICC headquarters, senior Congress leader and former Union Minister Jairam Ramesh said that Ayushman Bharat is not an answer to India's health challenge and added that the Congress will enact Right to Health law which would provide universal healthcare.

"Prime Minister Modi claims that this is the world's biggest healthcare scheme and nearly 10 crore families will benefit from it. But what he did not state and what the government figures tell us is that even today, total families who benefited from UPA's Rashtriya Swasthya Bima Yojana and other state government's schemes, is 11 crore families", he said.

Listing out the features of the scheme, the Congress leader said that the Prime Minister said people can have treatment up to five lakhs in a hospital with a premium of Rs 1100, which is going to be paid by the government.

"But the fact is that by paying a premium of Rs 1100, treatment only Rs 50,000 is guaranteed, not as Rs 5 lakh as promised. Mr Modi has exaggerated not twice or thrice, but 10 times, 50,000 has become 5 lakhs. The scheme is massively underfunded. You only get treatment with this premium up to of Rs 50,000", Mr Ramesh said.

The Congress leader also pointed out that 85 per cent of expenditure is outpatient expenditures like tests, stitches, medicines etc and Ayushman Bharat does not cover outpatient, it covers only inpatient expenditure.

"So the bulk of the expenditures that families are spending is not cover under this scheme", he said.

Taking on the scheme further, he said the government has identified five types of fraud, and companies are allowed to commit two attempts at fraud before they are disqualified.

"When they do a third-time fraud, they will be disqualified. This is a strange way of implementing a programme", Mr Ramesh said, adding that why shouldn't a company indulging in fraud be disqualified immediately.

Similarly, he said, Ayushman Bharat does not include diabetics and high blood pressure, which are common ailments in India.

"We are the diabetic capital of the world because of eating habits and capital of high blood pressure, because of the stress and environmental issues. But this scheme does not cover these ailments", he added.

The Congress leader further said that the government has introduced this scheme to expand the network of private hospitals.

"The government announced that the scheme will start with private hospitals. And they will be given land, they will be given 49 per cent violability gap funding, So the two pillars of the Ayushman Bharat are private insurance and private hospitals", he said.

Mr Ramesh claimed that the Congress government will enact a Right to Health law, making health a fundamental right, similar to UPA government's RTI in 2005, MGNREGA and Forest Rights in 2006, RTE in 2009, Food security and Land rights in 2013.

The Congress president recently announced that Right to Health will be implemented. This will be done through the public sector, through public investments, public hospitals and medical colleges, nursing homes and it will create lakhs of jobs in the country", he said.

He alleged that Ayushman Bharat is a life saver not for the people of India, but for private insurance companies and for private hospitals.

"Just as Prime Minister's crop insurance did not benefit the farmers, but favoured private companies, similarly, Ayushman Bharat is only helping private entities", he added.