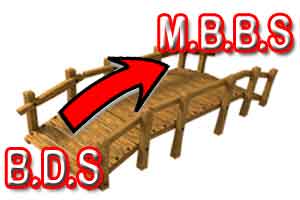 New Delhi: The issue of proposed BDS to MBBS bridge course to enable dentists practice modern medicine was raised not once but twice in the Rajya Sabha recently, when two MPs questioned the Union Health Ministry about the proposal and its corresponding oppositions
Responding particularly to the quetions, Minister of State- Ministry of Health and Family Welfare provided clarifications on the matter.
MP Shri Majeed Memon, questioned whether it is a fact that Indian Medical Association has opposed Government's proposal to allow dentists to practise modern medicine as well as the reasons thereof.
................................ Advertisement ................................
Read Also:Bridge To Nowhere- IMA up against the idea of BDS-MBBS bridge course
................................ Advertisement ................................
Responding the question the MOS Health, Shri Ashwani Kumar Choubey in written reply informed that there is no proposal with the government as on date on such lines
"No. As on date there in no such proposal to allow dentists to practice modern medicine," the Minister stated in his reply.
However, responding to the question by MP Prabhakar Reddy Vemireddy on whether it is a fact that a bridge course is proposed for those who opt to study MBBS after BDS, the minister answered that the Dental Council of India (DCI) sent a proposal which has been forwarded to Medical Council of India (MCI).
Further, another question was raised by Vemireddy whether any proposal has been received from the Dental Council of India to permit students who have completed BDS take direct admission into 3rd year of MBBS to which the minister once against replied with a NO
Clarifying on the question whether it is a fact that curriculum in the first two years of MBBS and BDS is almost similar; the minister informed that The Board of Governors appointed in supersession of Medical Council of India (MCI) has informed that the curriculum in the first two years of MBBS and BDS is not similar
Read Also:Common first two years for MBBS, BDS, Nursing courses; Lateral Entry for other Medical Disciplines into MBBS: NEP draft 2019
The issue of BDS to MBBS bridge course has been a matter of contention between modern Medicine practitioners ever since it was first put forward by the DCI to the MCI. While the government official response states that there is no formal proposal with the government yet, Medical dialogues team had earlier reported that the government Think tank, Niti Aayog had called for the meeting in the month of April 2019 to discuss the issues on leveraging dentists to provide primary healthcare thereby reducing the gaps of current shortfall of doctors in the country.
This had come after a meeting was held at the PM's office earlier the same month, regarding the scaling up of medical education in India. In the said meeting, it was inter-alia decided to explore the option of allowing dentists to practice family medicine/main stream medicine following bridge course.
Read Also : BDS to MBBS Bridge Course: Niti Aayog calls for a meeting
Author Details
Meghna A Singhania is the founder and Editor-in-Chief at Medical Dialogues. An Economics graduate from Delhi University and a post graduate from London School of Economics and Political Science, her key research interest lies in health economics, and policy making in health and medical sector in the country.
She can be contacted at editorial@medicaldialogues.in.
Contact no. 011-43720751
................................ Advertisement ................................
53 comment(s) on BDS to MBBS Bridge Course: NO Such Proposal With Govt to allow Dentists to practice Modern Medicine, Informs Health Minister