Bengaluru: Boy falls into coma after minor surgery, family alleges medical negligence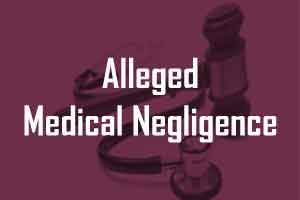 Bengaluru: Trouble seems to be mounting for Mallaya Hospital after, Lakshya P the child who was rushed to Mallaya hospital after having hurt his fingers while playing with his desk,has slipped into a coma due to
medical complications
that allegedly arose during a surgery of his hurt fingers at the Hospital. The family of the patient has alleged medical negligence on the part of the hospital.
Lakshya has been in a  
critical condition
 for the last nine days. The doctors of Mallaya Hospital said  that he had developed  tension pneumothorax a condition that occurs due to complete collapse of the lungs, reports  TOI. However, the father Purshottam alleges that the condition developed after his child was given anesthesia, inside the operation theatre. Despite being told that it was a minor surgery that would take 20 minutes, it took some two hours for the doctors to come out and tell the parents that the child has slipped into a coma because of weak lungs and heart reports DC.
Lakshya was shifted to Manipal Hospital on June 10 late evening and has been on a ventilator since then.
Purshottam , the child's father alleges medical negligence on the part of Mallaya hospital in anesthesia administration which he said , led to the condition. He is threatening to lodge a police complaint and also book the hospital and the team of doctors with the Karnataka Medical Council  for medical negligence. "Something has gone wrong when they administered anesthesia. The hospital is yet to refund Rs 25,000 which I paid before my son was taken to the operation theatre. No surgery was conducted there, but they just devastated my son's life. Right now, I have no time to lodge a complaint but we will pursue this," said Purushottam
Meanwhile, the health department has sought a report from Mallya Hospital about the incident.
"I have asked the doctors in the department to obtain a report from Mallya hospital. The government will decide the next course of action after the hospital submits a detailed report to us. Meanwhile, the department has asked Manipal Hospital (where the boy is currently undergoing treatment) to consider his expenses under the government's Suvarna Arogya Suraksha Trust. Our doctors are also working with Manipal Hospital to give the boy the best possible treatment. If required, doctors from Nimhans will be roped in, as the case requires neurosurgeons to intervene," said Shalini Rajneesh, Principal Secretary, Health and Family Welfareto the
TOI
Dr Murali, Consultant Neurologist, Manipal Hospital, said, "The child was referred to us with heart, breathing and brain problems. The heart and breathing conditions have been stabilized and the child is on ventilator. Our concern is the brain as there is a hypoxic injury. All measures are being taken and all relevant specialists are involved."