Bengaluru Dermatologist shines at Mrs UN International Beauty Pageant 2019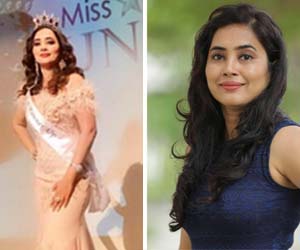 Bengaluru: A city-based dermatologist and cosmetologist, Dr Priya Sharath recently won an international pageant contest, being crowned as a first runner up of Mrs United Nation International Beauty Pageant 2019. The contest was recently held in Toronto, Canada.
With over 15 years of experience in the field of skin care, Dr Priya Sharath is a professor in the department of Dermatology at Rajarajeshwari Medical College, Bengaluru, and is the Managing Director of her own clinic -Derma Heal, which is an advanced centre for skin and hair care, located in Basaveshwaranagar, Bengaluru. Married to an orthopaedic surgeon, she is a proud mother of one child.
She regularly conducts free medical health check-up and awareness programmes for the underprivileged.
The doctor got into the pageant after successfully winning Mrs India United Nation International held in New Delhi in August last year. Earlier, Dr Sharath had won Mrs India Galaxy 2018 where she was crowned as Mrs Social Icon for her social service.
Read Also: Dr Bhasha Mukharjee, a 23 year old Indian Origin MBBS doctor crowned Miss England
In this Toronto Beauty pageant, she also did one round of national costume which she had got it designed at Designer Mantra in Mangaluru, reports Mangalorean.
Dr Sharath completed her MBBS from JSS Medical College and MD degree from Father Muller Medical College.
Sharing that it was her childhood passion to walk on the ramp; Dr Sharath wishes to work for the victims of acid attack and bring them to the mainstream. "Their rehabilitation will be my priority and I already have a plan before me. I have also discussed this project with a few people who have expressed their interest in taking this plan further," she told TOI.
She thanked her family and friends for all the support. "Time management is definitely a challenge and my life has been very hectic. I managed to squeeze in time for grooming sessions and I have reached here only because of the support of my family and friends," said Dr Priya.
The United Nation Pageant is a pageant that focuses on volunteer work.  As per the criteria, each contestant must have a back ground in Volunteer work for their community.  If they are chosen to represent their country, they will receive their country's title.
The pageant has four areas of competition, Interview, fashion, national costume and evening gown.