Bengaluru: Unable to cure Health Ailments, doctor attempts suicide after poisoning mother sister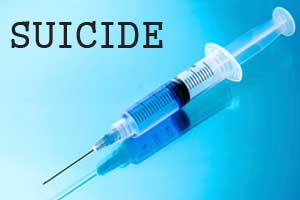 Bengaluru,: Unable to find a cure for their growing health ailments, a medical practitioner in the area injected a fatal dose of diabetic medicine to his mother and sister before attempting to kill himself on Friday.
"A doctor killed his mother and sister by injecting poison and tried to end his own life here, apparently over the unbearable migraine attacks suffered by the family," police told news agency PTI on Saturday.
Dr Prakash (43) allegedly poisoned his mother Mookambika (75) and Shyamala (40), and tried to commit suicide in the same manner in the morning, as he could not find a cure for the ailment and was upset at the disorder running in the family, the police informed PTI.
News18 reports that they were found unconscious on Saturday morning by Mookambika's husband who immediately informed the neighbours and a doctor was called in, who found only his son alive.  The doctor has been admitted to a hospital and is under going treatment
A purported suicide note found at the spot revealed that Prakash committed the crime as they were suffering from persistent migraine, the police said. A death note, written by the doctor, said all the three were taking steps on their own will
The doctor, a diabatologist was running a clinic and had returned home two months ago. According to the police, the family was also upset over not being able to find a marital alliance for him.
"The doctor was suffering from migraine for the last 10 years and was also upset that he wasn't married." Police told
Mumbai Mirror
. His sister, a lawyer, was also upset because of her marital issues