BHU: Resident doctors at Sri Sunder Lal Hospital on strike over 7th pay commission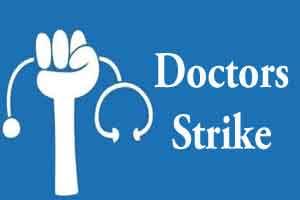 Varanasi: The strike of resident doctors continued for the second day on Tuesday at Banaras Hindu University's (BHU) Sir Sunder Lal Hospital, Varanasi in Uttar Pradesh.
The doctors here went on a strike on Monday, demanding implementation of recommendations of the Seventh Pay Commission, leaving health facilities on halt in Sir Sunder Lal Hospital.
Doctors at the hospital informed the media persons, that while the recommendations of the 7th pay commission have been implemented in most of the hospitals of the state, they are yet to be adopted by the university hospital.
While the initial plan was to boycott OPD services for two days, the strike is likely to be extended till Friday. Sources informed that apart from OPD all emergency services are functional
A large number of patients said they had to wait for hours at the hospital premises due to non-availability of doctors. 
"We were informed that only one doctor is available in the hospital today, and there are over 200 patients who are waiting for the appointment. We did not get a chance to meet the doctor today so now we are heading back," another patient told ANI.