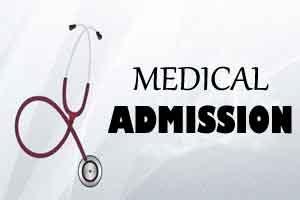 A recent decision by the Bihar government will come harsh on the students seeking admission in the PG Diploma courses in government medical colleges in the state. It has been decided by the state authorities that students will not be admitted for the upcoming academic session in its medical colleges.
This is a double blow to the medical education system in the state, where only recently the MCI has recommended not allowing admission on the 160 MBBS seats in government medical colleges and another 100 seats in a private medical college in the state.
A health department source has further implied on the matter that even when the tussle between the MCI and the state government is yet to be settled on the MBBS seats, this is another big concern for admission for PG course. This decision would translate into a loss of over 80 PG diploma seats.
These courses being run in Patna Medical College (PMC) and Darbhanga Medical College (DMC) were never recognised, informed the source to TOI.
"However, the PG diploma course in orthopaedics in DMC is recognised by the MCI and it has just two seats. Of the 93 PG diploma seats in PMC, 36 are recognised," the source said, adding an official communication to principals of these colleges asking them not to take admission on the unrecognised PG diploma seats would be sent soon.
As reported by HT, The Medical Council of India (MCI) has recommended to the Centre that it should not renew 260 undergraduate medical seats, of which 160 seats are in four government medical colleges, in Bihar.
If the Centre accepts MCI's recommendations, Bihar will lose 160 out of the 950 available undergraduate (MBBS) seats in its nine government-run medical institutions. The reduction, if it actually happens, will be effective from the ensuing 2016-17 academic session.
The MCI has recommended the Centre that it should not renew its permission for admission of the fourth batch of MBBS students against the increased intake from 50 to 100 at Anugrah Narayan Magadh Medical College Hospital (ANMMCH), Gaya, Sri Krishna Medical College Hospital (SKMCH), Muzaffarpur and Jawaharlal Nehru Medical College Hospital (JLNMCH), Bhagalpur.
In the case of Darbhanga Medical College Hospital (DMCH), Darbhanga, the MCI recommended that the permission for intake from 90 to 100 should not be renewed.
The MCI also pointed to deficiency in teaching beds, inadequate staff for registration counters, inadequate waiting area, unavailability of ECG room, minor operation theatre and common dressing room and injection room for male and female patients. It had listed out a total of 34 objections, some of which were advisories.
0 comment(s) on Bihar: state govt not to allow admission for PG diploma seats