BJP functionary Arrested for attacking doctor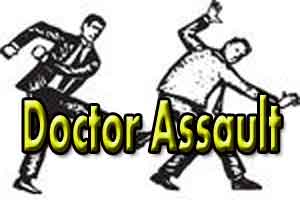 Tiruvarur:  A political party functionary and two of his supporters have been arrested on the charges of assaulting a primary health centre (PHC) doctor.
The doctor named Arvind working at PCH, Muthupettai lodged a complaint against the BJP district unit president Pettai Shiva and his supporters after which they were arrested by the Muthupettai police for
assault
. The complaint was registered under various IPC Sections, including 147 (rioting), 448 (house trespass), 294 (b) (uttering obscene words in public place) and 325 (causing grievous hurt).
Read Also: Slapped, Abused: Second Year Resident Doctor Assaulted at Cooper Hospital
According to a police official, the matter occurred after few villagers of Pettai were given tablets provided by the Health Department to prevent the spread of communicable diseases in the aftermath of Cyclone Gaja. After consuming those medicines, the complaints of nausea and vomiting arrived. They were immediately admitted to the said PCH for the treatment, reports The Hindu.
BJP district unit president Pettai Shiva had gone to the health centre to inquire about the treatment given to the affected people when an altercation took place between him and doctor Aravind, police told PTI.
Following the incident, the doctor went and lodged a complaint against the concerned persons
Read Also: Haryana Not Safe for Doctors: Nephrologist beaten mercilessly outside
residence
, injured