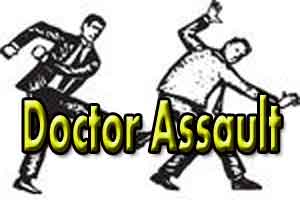 Mumbai: In yet another case of enraged relatives attacking medical professionals after patient's death, a 26-year-old resident doctor at the civic-run Cooper Hospital was assaulted recently. Following the incident, other doctors attached to the hospital boycotted the Out-Patient Department (OPD) duty for a few hours.
The incident took place late night on 19th August. According to media reports, a 35-year-old patient was brought in a state of altered sensorium to the hospital.
In his statement to the Juhu police, the second-year resident from Nair Hospital, who was posted in Cooper hospital, said that he took the patient's history from the relatives and sent him for a CT scan. Then, he accompanied the patient and relatives for the CT scan and told them that they will have to wait for 30 minutes. For that time, the doctor went to look at other patients.
While the CT scan report was normal, he suggested an MRI which again involved a 30-minute wait. After the MRI, the patient was brought back to the ward.
At around 8.30 pm, the relatives rushed to the doctor to inform him that his condition was critical. "When I went to the ward, three doctors were already treating the patient and when he did not respond, one of the doctors declared him dead," the doctor narrated the whole incident to The Hindu.
Minutes later, the relatives blamed the doctor for the death and at around 11.30 pm, they ganged up and started assaulting the doctor.
During the incident, the relatives slapped the doctor several times and hurled abuses at him. One of the relatives attempted to hit the doctor with a plastic stick attached to a broom, adds The Hindu.
Other doctors present at the spot came to the doctor's rescue, and he was sent to adjacent room till relatives calmed down and police arrived.
In response to the assault, other doctors at the hospital observed an emergency strike. According to preliminary information, the doctors were not tending to the OPD cases; however, emergency cases were being attended to.
"The whole incident was resolved after relatives were told about the condition of the patient. The resident doctors had stopped working for two to three hours but it did not affect the OPD. Shortly after, all doctors resumed work," a civic health official told the Free Press Journal.
The Maharashtra Association of Resident Doctors (MARD) has condemned the attack. MARD's President, Dr Lokeshkumar Chirwatkar, said that the security at most other hospitals was beefed up after their protests.
 "Cooper somehow never made it to the list as it did not have an active MARD body. We will be taking up the issue with the authorities," he added.
 Back in May, resident doctors of several civic-run facilities like J J Hospital, Sion Hospital, St George Hospital, GT Hospital and Cama Hospital had gone on strike to protest against a similar assault on two of their colleagues.
Read Also: JJ Hospital: 2 Resident Doctors including Female Medico Assaulted, Police Arrests four
2 comment(s) on Slapped, Abused: Second Year Resident Doctor Assaulted at Cooper Hospital